April 22, 2014
Dear Yale 1964 Classmate:
Howard Gillette has forwarded this cartoon as an appropriate introduction to the Thursday program that will officially kick off our fiftieth reunion.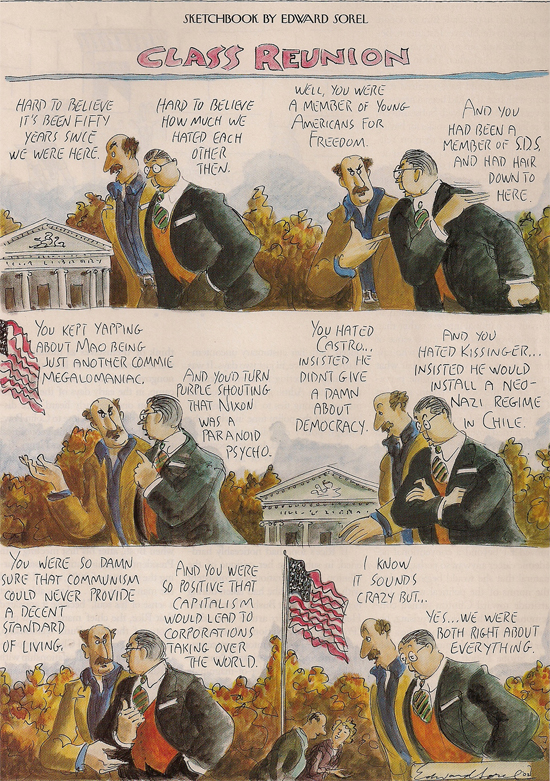 As you know, our theme for the weekend asks the broad questions, "How did we get into this mess?" and "Where do we go from here?"
On Thursday afternoon (May 29) Howard will lead a panel of prominent classmates in a discussion of four issues that have engaged us throughout the half century since we graduated from college. Steve Bingham will discuss the evolution of civil rights; Nick Danforth will address the women's revolution; Tom Powers will talk about our increasing concerns over national security; and Gus Speth will discuss the environment and global warming. In keeping with our overall theme, we have asked these experts to discuss these issues both retrospectively and, perhaps more interestingly, prospectively. The above cartoon speaks to somewhat different issues, but it serves to emphasize that although we differ — sometimes dramatically — in our views, we first engaged on these matters as undergraduates and in the immediate years thereafter. The panel discussion will speak both to our common heritage and to our diversity of opinions.
Following the first panel, Jim Duderstadt, former President of the University of Michigan, will lead four classmates in discussing the dramatic changes in education at Yale and in other American universities during the fifty years since we graduated. Two of the panelists — Terry Holcombe and Len Baker — will speak from their perspective as leaders of Yale during these years. Once again, we will ask our panelists to consider the past as prologue to the future of American education.
In subsequent emails, we will describe our Friday and Saturday reunion programs. For the moment, however, our focus is to encourage everyone to attend (see who's coming). To date, 382 classmates have registered for the entire reunion or at least a part of the weekend. If you have not yet registered, please use this link to do so now. If you have already registered, we encourage you to reach out to friends and former roommates who have not yet done so.
We look forward to seeing you in New Haven five weeks from now.

Sincerely,

Pete Putzel

Chris Getman

Waldo Johnston
Reunion Chairs