May 16, 2014
Dear Yale 1964 Classmate:
Our class has been blessed with the very cool, symmetrical, Roman-numeral logo associated with our reunions (see the header at the top of this message for the logo). Before our 45th reunion we ordered 140 ties based on this logo, and sold them for $50. These ties, in three different designs shown below, are sold out, but we're offering to order more if there is a demand.
In addition, we are offering a new design, also shown, which we think will also appeal to you.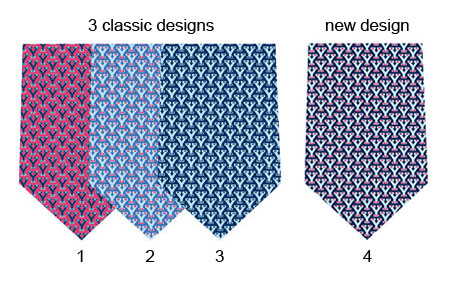 Because there will be more than 400 of us at the reunion and there are only 160 ties in circulation, we hope that there might be great interest in creating more ties. The minimum order is 40 of each design. If you're interested, please indicate what tie or ties you would like. If there is sufficient interest, I'll order those ties. Obviously, attending the reunion is not a prerequisite for ordering ties.
Please let me know what ties you'd like to buy by sending me an email. There are four choices described below.. When you place your order, please specify the tie(s) you want by number.
Dark blue "Y" with light-blue numerals on pink background
Light blue "Y" with red numerals on medium-blue background
Light blue "Y" with dark-blue numerals on dark-blue background
Light blue "Y" with red numerals on dark-blue background
On June 15, we'll see where we stand. If there are enough orders for the tie(s) you'd like, I'll contact you, tell you where to send your check, order the ties, and send them to you within six weeks. If you have a second choice, let me know that too in case your first choice doesn't make the cut.
I'm confident that you'll wear your tie(s) with pride, and I look forward to seeing you at the reunion.
Thanks and best wishes,
Bob Buchanan
Class of 1964