June 4, 2014
Dear Yale 1964 Classmate:
You've seen two prior emails describing the offer of class ties for sale if a minimum order of 40 could be achieved for any of 4 designs. Design #2 is the least favorite and has been taken out of the running. Designs #1 and #4 have made the cut and will be produced and sold. Only design #3 is in limbo, close to the finish line but needing a few more buyers. The cost per tie is $50, including shipping.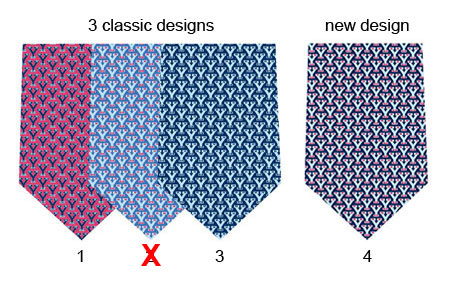 If you haven't done so already, please let me know what ties you'd like to buy by sending me an email. The three choices are described below. When you place your order, please specify the tie(s) you want by number.
#1: Dark blue "Y" with light-blue numerals on pink background
#3: Light blue "Y" with dark-blue numerals on dark-blue background
#4: Light blue "Y" with red numerals on dark-blue background
The deadline is June 15, at which point the order will be placed with the vendor and I'll contact those classmates who opted to buy.
Thanks and best wishes.
Bob Buchanan
Class of 1964