Class of '64 ties are still available!
September 23, 2014
Dear Yale 1964 Classmate:
We had a great response from classmates to previous offers of Class ties for sale, and many of you are now the proud owners of one or more of the ties depicted below. Due to the minimum orders required by Vineyard Vines (as well as a mistake in our favor on their part), we have some ties left over in each of the designs below. If you feel you missed out, or have changed your mind about wanting one, or may want even more of these distinctive neckties, please contact me at this email address. These ties are a bargain at $50 as well as great tribute to our 50th reunion.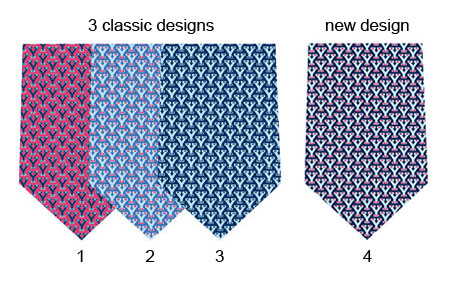 Please let me know what ties you'd like to buy by sending me an email and specifying the tie(s) you want by number.
Dark blue "Y" with light-blue numerals on pink background
Light blue "Y" with red numerals on medium-blue background
Light blue "Y" with dark-blue numerals on dark-blue background
Light blue "Y" with red numerals on dark-blue background
Thanks and best wishes,
Bob Buchanan
Class of 1964