Class Events
Mini-Reunion in Maine 2010
Sep. 23 - 26, 2010
A good time was had by all, as witnessed by the photo below taken on our Yale-only windjammer cruise. Scroll down below the photo to read a little bit about the event.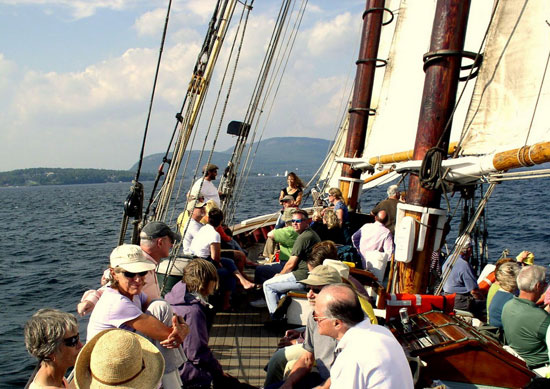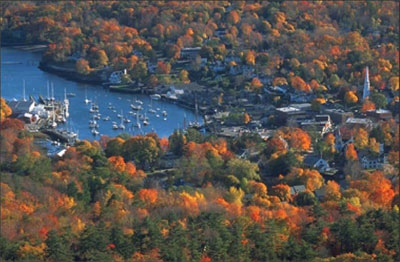 Ward Wickwire, Mac Deford, and Dennis DeSilvey organized the mini-reunion in mid-coast Maine. The mini-reunion was based at the Point Lookout Conference Center in Northport, and one of the highlights was a windjammer cruise out of Camden harbor (photo at right).
Highlights included:
Penobscot Marine Museum (focused on the marine history of the Maine coast)
Speaker: Richard Silkman, energy consultant and Yale MA & PhD on "US Energy Alternatives — Common Misconceptions"
Farnsworth Museum (center of Wyeth family collections)
Speaker: Gordon Hamilton, scientist at Climate Change Institute at University of Maine, on "Global Climate Change: Impact on the US East Coast"
Afternoon windjammer cruise on Penobscot Bay
Golf (Wickwire, Lee, Post)
Numerous dinners and receptions
Ward Wickwire reflects:
It was great to see everyone in a wonderful part of the world. The weather was good (we could work around an afternoon of fog) and the views of the islands off the coast spectacular (I'm biased).

There was plenty of time for small group discussions. It is interesting how many of our class are still working although few are doing exactly what they did during the prime of their careers. Lee claimed to be the only classmate who had stopped completely (but, then again, he had to get back to Boston for another arbitration he had agreed to do!).

Reunions are interesting — I never fail to meet some of our classmates for the first time. And the experience is always rewarding.

The speakers added some interesting perspectives on topics of relevance to Maine but also of interest generally. Both speakers furthered our class commitment There was plenty of time to get to know the speakers and ask questions.

In sum, it was worth the effort organizing the event. Hope to see more of our class in the area next year (full or part time residents include: Deford, Wickwire, Desilvey, Chase, Wishcamper). Now, who will organize the next YALE CLASS OF 1964 MINI REUNION?