Class News
Carm Cozza, legendary Yale football coach, dies at 87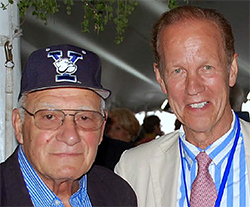 Tony Lavely '64 reflects on Carm Cozza's death on January 4, 2018.
Carm was Assistant Coach for Offense in 1963. When we last saw Carm at our 50th Class Reunion, he told us, "You were the class that got me the head coaching job in 1965!"
Cozza served as the head football coach at Yale from 1965 to 1996, winning ten Ivy League championships and compiling a record of 179–119–5. Cozza was named UPI New England Coach of the Year four times as well as Eastern Coach of the Year once. He was inducted into the College Football Hall of Fame as a coach in 2002.
Below, Carm is pictured at our 50th Reunion in 2014 with some of his players. Left to right: Rich Niglio, Carm Cozza, Dick Berk, Tony Lavely, and Dan Pollack.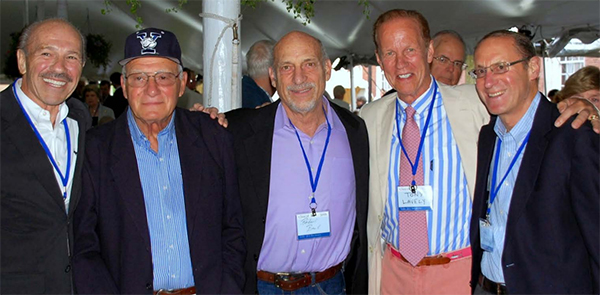 Below are two obituaries that memorialize Carm's life and career.
---
Obituary, The New York Times
January 4, 2018
Carmen Cozza, Hall of Fame Football Coach at Yale, Dies at 87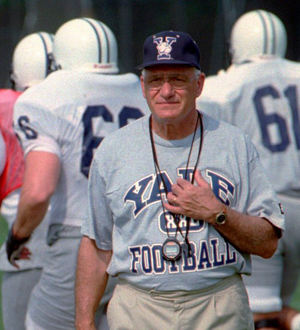 Carmen Cozza, who won 10 Ivy League championships in his 32 years as Yale's head football coach, died on Thursday in New Haven. He was 87.
His daughter Karen Pollard said the cause was complications of acute leukemia. He died at Smilow Cancer Hospital at Yale.
Cozza, who was inducted into the College Football Hall of Fame in 2002, was named coach of the year seven times by the American Football Coaches Association. From 1965 through 1996, his teams compiled a 179-119-5 record.
In one dominant stretch, from 1974 to 1981, the Bulldogs won seven of eight Ivy League titles, and in almost half his seasons as head coach his teams lost no more than two games.
His most celebrated year was 1968, when his team, led by the future N.F.L. star running back Calvin Hill and the quarterback Brian Dowling, who also went on to play in the National Football League, went undefeated.
But it was the one game Yale did not win that season, against its archrival, Harvard, that proved most memorable.
It was the season finale. Both teams were unbeaten. Yale led, 29-13, with 42 seconds left when Harvard scored on a 15-yard pass. A pass for a 2-point conversion failed, but Yale was called for pass interference. Harvard then ran successfully for the 2 points and trailed, 29-21.
Harvard then recovered an onside kickoff and, on a play that started with three seconds left and ended with no time left, scored on an 8-yard pass. The rules allowed a conversion attempt even though the clock had run out, and Harvard completed a pass for the 2 yards and a 29-29 tie.
The Harvard Crimson banner headline after the game famously declared, "Harvard Beats Yale 29-29."
Like that of other Ivy coaches, Cozza's success was made difficult by the league's ban on athletic scholarships, enacted in 1945 (though the universities could continue to offer players financial aid).
Still, he turned out 15 players who went on to the N.F.L. Besides Calvin Hill and Brian Dowling, they included Rich Diana, John Spagnola, Dick Jauron, Kenny Hill, and Gary Fencik.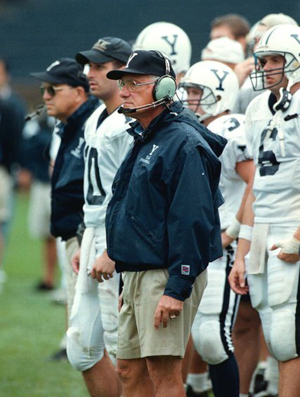 Cozza recruited many of his players personally. Dowling had been heavily courted by Ohio State and Michigan but was won over by Cozza's overtures.
Five of Cozza's players became Rhodes scholars. Of his 1,500 or so players, only seven who completed their eligibility failed to graduate.
Dowling said Cozza had understood his players' priorities.
"My freshman year, we had four tackles," he told The Los Angeles Times in 1996. "On Thursdays, they all had labs, so we just lined up without tackles on offense and defense. That wouldn't happen at Ohio State or Michigan."
In Cozza's heyday, his teams were stocked with exceptional players. But after the 1981 season, the talent thinned out, in part because Ivy League universities began using a statistical admissions system that combined high-school class rankings and S.A.T. scores, hampering Cozza's success in recruiting top prospects with marginal academic achievements.
Another blow was the Ivy League's demotion by the N.C.A.A. in 1982 to Division I-AA, made up of lesser football powers. That hurt Yale's ability to schedule major teams and was viewed as discouraging the best players from going there.
Robert Barton, a Yale football historian, said in an interview that Cozza's strength "was in building an organization."
"Carm tried to hire lieutenants whose judgment he could trust," he said, "let them do their job, refereed when they had to choose whether a kid played offense or defense, and saw to it that no disagreements went beyond the coaches' conference room."
Carmen Louis Cozza, who was universally known as Carm, was born to Italian immigrants on June 10, 1930, in Parma, Ohio. At Miami University of Ohio he played both football and baseball, winning letters as a quarterback, halfback, and safety and as a pitcher and an outfielder. His football coaches were Ara Parseghian, who went on to renown at Notre Dame, and Woody Hayes, who did the same at Ohio State.
After graduation, in 1952, Cozza played minor-league baseball for two-and-a-half years, in the Cleveland Indians and Chicago White Sox farm systems, before coaching high-school football at Gilmour Academy, a Roman Catholic school in Gates Mills, Ohio.
From 1956 to 1962 he was a Miami of Ohio football assistant under John Pont. He also earned a master's degree in education from Miami in 1959.
When Pont became the Yale coach in 1963, Cozza went along as an assistant. He became head coach in 1965 after Pont was named head coach at Indiana.
Cozza's head-coaching debut at the Yale Bowl was inauspicious, however: a loss to Connecticut. Afterward, Charley Loftus, Yale's sports information director, remarked that Cozza had received a telegram from the alumni association saying: "There's a train leaving for New York at 4 o'clock. Be under it."
In retirement Cozza was a fund raiser for Yale sports, helping with the renovation of the Yale Bowl in particular, and a radio game analyst for Yale football games.
Besides his daughter Karen, Cozza, who lived in Orange, Conn., is survived by his wife, Jean Cozza; two other daughters, Kathryn Tutino and Kristen Powell; and five grandchildren.
For all his victories on the playing field, Cozza was equally proud of his players' classroom success. "I always loved to joke with the alumni that I had to be the best pre-med and pre-law coach in the nation," he told The Pittsburgh Post-Gazette. "No one had as many doctors and lawyers as I did."
---
Obituary, Yale News
January 4, 2018
Carm Cozza, Ivy's winningest football coach, beloved mentor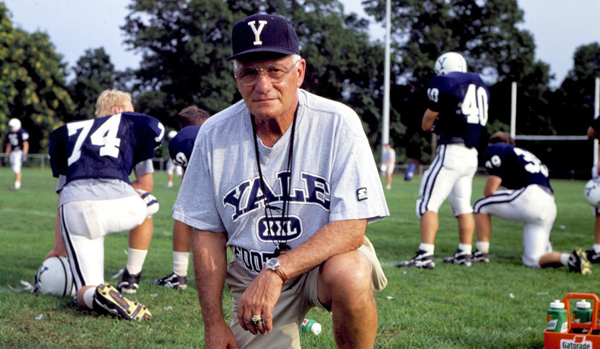 Carmen "Carm" Cozza, Yale's longtime head football coach, died on Jan. 4 at the age of 87.
Cozza, the father figure to more than 2,000 Yale student-athletes from four different decades, molded young men into future leaders while serving as the head football coach at Yale for 32 seasons.
"Coach Cozza — Carm — is a Yale legend," said President Peter Salovey.  "Across four decades, students loved to play for him, and he remained in their lives long after they graduated.  He embodied the unique values of the Ivy League approach to athletics; his players were always students first.  He was a mentor — really, a father and a brother — to so many at this university and will be deeply missed.  My heart goes out to his family and friends."
Tom Beckett, director of Yale Athletics, said,"Coach Carm Cozza was one of our nation's outstanding role models and leaders of young men. His legacy will have a lasting influence on the Yale community and beyond."
Dr. Pat Ruwe '83, a former Yale football captain and president of the Yale Football Association, said: "Today we men of Yale Football, the Yale Football family, Yale University, and America herself lost a piece of our foundation. For over 50 years, legendary coach Carm Cozza represented Yale Football and his community with unmatched honor, dignity, and class. Ferociously competitive yet humble and unfailingly loyal, Coach was once called Yale's greatest teacher and was the ultimate role model to those young men fortunate enough to play for him.
"I was blessed to stay involved with Coach after my playing days as his team doctor, chauffeur, and friend, and I saw up close the real man, which is where his star shined even more brightly," said Ruwe. "There was no finer human being who ever walked the sidelines or wore the Yale Blue. We will miss you, Coach. You were loved."
When Cozza took over the Yale program, Vince Lombardi was leading the Green Bay Packers to an NFL Championship and Lamar Hunt had not come up with the name "Super Bowl" for the championship of professional football.  Future NFL star Calvin Hill '69 was a freshman on Yale's Old Campus.
From 1965 to 1996 Cozza compiled a 179-119-5 (.599) record in 303 games while earning the admiration and affection of his players and the utmost respect from his opponents.
He is still the winningest coach in Ivy League history, earning him a spot in the College Football Hall of Fame in 2004. Cozza led his teams to 10 Ivy League championships and 19 winning seasons. Mixed in with all those wins was a 16-game win streak between 1967 and 1968 that helped make his name synonymous with Yale Football.  
Cozza coached in numerous all-star games. An assistant coach for the 1970 East-West Shrine Game in Palo Alto, Calif., he served as a head coach in the 1972 contest. Cozza also served as defensive coordinator in the 1981 Blue-Gray Classic in Mobile, Ala.  When the 1989 Ivy League All-Stars went to Japan for the first Epson Ivy Bowl, Cozza was the head coach of the Ancient Eight in its victory over the Japanese College All-Stars.
Cozza was born June 10, 1930, in Parma, Ohio. In high school, he was a stand-out athlete, earning 11 varsity letters in football, basketball, baseball, and track. He attended college at Miami (OH), playing football under the tutelage of Ara Parseghian and Woody Hayes. He saw triple duty as a Miami quarterback, running back, and defensive back.
On the baseball diamond, he pitched and played the outfield, posting a 1.50 earned run average and a career batting average of .388. He briefly spent time in the minor-league organizations of the Cleveland Indians and the Chicago White Sox before taking a coaching position at Gilmour Academy in Ohio.
In 1956, he was appointed head coach of the freshman squad at Miami, and in 1961, he joined the varsity staff. Two years later, he accepted a job as an assistant coach at Yale under head coach John Pont. When Pont resigned in 1965, Cozza was named head coach. At the time of the announcement, Yale Athletics Director Delaney Kiphuth said, "The future of Yale football is in very capable hands."
"I'll be happy to be here all my life," Cozza said on the day of his hiring.
A recipient of a master's degree in education from Miami in 1959, Cozza had administrative experience as well. In 1976, he was appointed Yale Athletics director with the expectation that he would leave coaching after a few years of performing in both capacities. Instead, Cozza decided to give up the director's position in 1977 and remain the football coach.
Cozza not only coached NFL football players, but he tutored five Rhodes scholars and the former mayor of Baltimore, Kurt Schmoke. Of the more than 2,000 players he coached, only seven, who remained in his program, failed to graduate.
"Every guy I recruit I tell, 'If you don't have a thirst for knowledge, don't come here,' " Cozza once said.
After he retired from coaching in 1996, Cozza served as special assistant to the director of athletics at Yale, while also handling the radio color commentary (1998-2016) for Yale football.
Tony Reno, the current Joel E. Smilow '54 Head Coach of Yale Football, said: "Words can't express how much Coach Cozza has influenced me as a coach and a person since I met him. When I was fortunate enough to become the head coach of Yale Football, we became very close.  He became the mentor that everyone would dream to have."
"It is my job to make sure everything we do with our players and Football family is right by the men who played football at Yale, but also right by Coach Cozza, who built the great family we have today. I look at every decision that way."
Ron Vaccaro '04, the radio voice of Yale Football, added: "Carm was the ultimate gentleman. I can't think of a more impactful leader. He was an excellent teacher because he never stopped being a student of life. He was curious, very well read, and always came up with the perfect one-liner at just the right time. He leaves a shining example for all of us on how to live an inspired life in service to others." 
Cozza, one of the fabled "Cradle of Coaches" from Miami University, earned a George H.W. Bush Lifetime of Leadership Award from Yale in 2009 and was the Walter Camp Football Foundation's Distinguished American recipient in 1992. Cozza was also instrumental in raising money for the renovation of Yale Bowl.
He is survived by his wife, Jean Cozza; daughters Kristen (and husband, Dave) Powell, Kathryn (Anthony) Tutino, and Karen (John) Pollard; and grandchildren Michael and Mark Powell, Elizabeth Tutino, and Eric and Christopher Pollard. Cozza was pre-deceased by four sisters, Ange, Pat, Theresa and Josephine.
The services will be private, and a memorial celebration of his life is being planned for the near future.