Class News
Fall Golf Outing October 13, 2006
After several years of successful springtime Yale '64 golf outings, we decided to add a fall outing this year, again at the beautiful and renowned
Yale Golf Course
, ranked the number-one college golf course in the country in
Golfweek
's 2006
College Almanac
, which considers "the classic Yale Golf Course in a league of its own." We thank
Bill Galvin
for organizing this extravaganza and
Chris Getman
for memorializing it (see below). Anyone stumbling on this page who would like to be notified of future such '64 golfing events should contact either
Bill
or
Chris
.
On Friday, October 13, nine intrepid classmates teed it up. Chris captured the event in a photo and a bit of historical fiction, below. You can also review commentary and pictures from our earlier outings in
2006
,
2005
, and
2004
.
---
CHRIS GETMAN'S ACCOUNT ...
The second class golf outing of the year was held auspiciously on Friday, October 13th at the Yale Golf Course. Participating were (from left to right in the picture below): Brin Ford (H'64), Martin Padley, Don "Yardsale" Crabtree, John Evans, Sam Francis, Jim Baxter, Bill Galvin, Ugh Lee, and Chris Getman.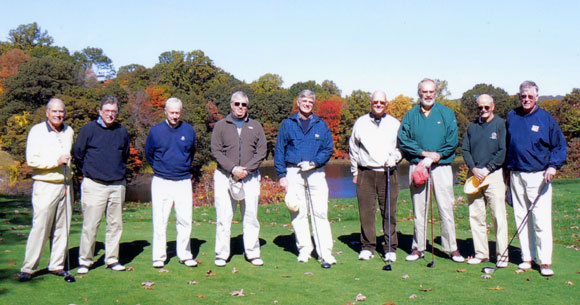 After the usual BS at lunch we divided into threesomes, with Evans, Crabtree and Padley (who returned after a two year hiatus) going first, Lee, Galvin and Francis second, and Baxter, Ford and Getman bringing up the rear. This was fortunate, because as the only forthright group on the course that day, they assumed the role of vigilante to assure that the other renegades didn't try anything sneaky.

After the obligatory group photo where a wide angle lens had to be attached to Getman's camera to record the ten pounds of warthog attached to his waistline following a three week trip to Africa, the bickering began. Galvin tried to explain why his handicap had gone from 6 to 21 over the summer and eventually after much whimpering from the others, compromised for a 15. He neglected to mention that he was a FEMA first-round draft pick to be used in future emergencies where sandbags are needed. His prowess at bagging and FEMA's wisdom were duly noted as he cracked one 290 right down the middle off of the first tee.

Evans didst protest to much also, noting that he had only played 140 rounds on the Cape this summer because he'd needed to spend time in post-Katrina New Orleans personally shoring up the 14th Street dike. Crabtree, true to form lost his hat before we even teed off. That, at least, was better than his shoes which he lost last year.

Play was brisk, and we all connected again on the ninth tee. This was where some gross improprieties became uncovered. It seems that in setting up the event Galvin had established two provisos. One was that there would be a "floating" mulligan and the other was that we could invoke the "leaf ball" rule. More on that later. After Evans, Padley and Crabtree all hit their balls into the water, all three promptly took "floating" mulligans even though their balls were on the bottom of the pond. That egregious violation was noted by the pious third group. Unnerved by what they'd seen, Lee, Francis and Galvin also chunked their shots. Unfortunately there were no witnesses as Baxter, Ford and Getman all birdied the hole.

We met again on the thirteenth, another par three. There we witnessed one of the most unusual shots any of us had ever seen. Francis hit a screamer which hit the ladies tee, a wooden block, and like a shot ricocheted back and hit Lee in the sternum. It was scary, but Ugh, being the trooper that he is, shook it off and hit a great shot that just missed the green. Had the ball been either a foot higher or lower, Tony could have had a serious problem. Francis, on the other hand, failed to note that his ball was behind the ladies tee-in fact it was behind the tee from which he's hit - and did not perform the requisite "elephant" golf routine resulting in a two stroke penalty for his team.

Ford showed his true Harvard colors by twice hitting into the Lee, Francis, Galvin group on blind holes, only to find his ball teed up in the middle of the fairway in the true Yale spirit of forgiveness.

When we regrouped after Ford's par on eighteen, the scores were turned in. It was a best ball, no handicap format so one would have expected Galvin's team to win. That was not the case. Evans, Crabtree and Padley turned in a 79, and the other two groups reported 84s. However, upon closer examination it was noted that the ECP group had made a rather unusual interpretation of the "leaf ball" rule. Evans, though a physics major, noted that "leaves" is the plural of "leaf" so that when one "leaves" his balls wherever he'd like he should not be penalized. A meeting of the executive committee overruled this interpretation and imposed a five stroke penalty, putting ECP at 84.

The BFG group, which would never consider taking a mulligan or invoking the "leaf ball" rule, was awarded two strokes because Baxter lit up a cigar on the fifth hole which he proclaimed was "an eleven holer," though not to be confused with an elaborate outhouse. It looked like a putter. He was puffing along fine until the incident on the ninth tee which upset him so much that he lost his cigar which had seven holes to go on it. The poor fellow was in great duress, but soldiered on until twelve where he broke out a "seven holer," an F.D. Grave Munimaker. Because he was under such stress but played anyway, Baxter was awarded two strokes. Getman, in the meantime blew through three "two holers," while Ford, in true Harvard fashion sucked on a pipe throughout the round. The LGF group was penalized two strokes for Francis' failure to "elephantize" the 13th hole, so the final tally was BFG 82, ECP 84, and LFG 86.

Many of the warriors convened at Carmine's restaurant for a nice dinner where the BS continued to flow. It was a good outing.