Class News
Golf outing on Cape Cod a success despite the monsoon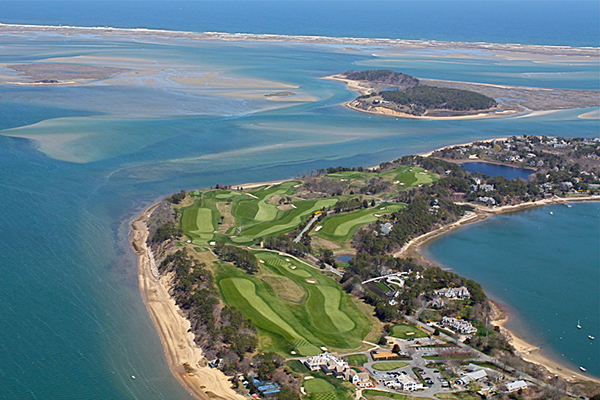 Fourteen classmates attended a three-day golf outing on Cape Cod on September 19-21. Including wives and friends, there were 17 golfers and 21 attendees at each of two dinners: Larry and Jan Capodilupo, John and Dottie Evans, Tony and Margie Lee, Neil Hoffmann, Chris Getman, Ward and Tracy Wickwire, Dave Lindsay, Ted Jones, Al Rossiter, Jon McBride, Butch and Rebecca Hetherington, Sam Francis, Dave Schumacher, Martin Padley, and a non-golfing classmate, Jerry Flannelly. Kirk and Judy Kitson (Tony Lee's sister and brother-in-law) and Charley Sawyer ('63) rounded out the roster. Larry Capodilupo and John Evans were the organizers.
After 3 solid months of drought, Tony "Weatherman" Lee came to town and brought a major storm with him. The first course, shown in the aerial photograph above, was Eastward Ho! Country Club, a beautiful open layout in Chatham with views of Pleasant Bay from most holes. This is a hilly course with very few flat lies and a lot of vertical that is not bad in a cart, but the rain caused the course to forbid carts.
After visiting the monument to Sir Edmund Hillary, who trained at the course before his assault on Everest, 12 bedraggled golfers slogged to the first tee, where they were given life preservers with the logo of Braniff Airways on the bottom and told to attach them to the bottom of their golf bags and put them on before assisting women and children. The ropes, crampons, and clips were also complimentary, and one could also order an oxygen mask which was to be attached to the top of one's bag and which would descend automatically in case of an emergency. The starter recommended the oxygen, noting that the course has 11 double diamonds, 4 diamonds, and three intermediate holes, rated by the U.S. Skiing Association. The bunny trail is by the practice range. Being of Yankee stock and considering ourselves to be in relatively good shape for our advancing years, everyone eschewed the oxygen.
The ever-prepared Lee broke out a pair of golf shoes which had a strange resemblance to snowshoes. "These babies really work in the water," he quipped, as he hit his drive and glided off into the elements. Schumacher then broke out a pair of flippers with spikes on the bottom which he, as a native Cape Codder, had ordered especially for the event. Ex-Yale swimmer Jones stripped down from his bloomers into a speedo and pranced off into the impending storm. The rest of the group stared at each other sheepishly, not knowing what to expect.
Despite having to walk in the pounding rain, ordered by Lee, all proceeded smoothly. A dozen golfers slogged off the first tee and most finished all 18 holes. The crampons helped, especially getting to the fourth hole, where the U.S bobsled team is alleged to have trained. It's safe to say that while rappelling by rope it's difficult to control one's pull cart. Eastward Ho! is definitely a challenge in the rain!
After slogging around for about five hours, everyone showered , preened, and showed up at Larry and Jan Capodilupo's beautiful house overlooking Nantucket Sound. "I thought that was the golf course," remarked a bedraggled Lindsay, "and what must be an island was the sixth green." A dour-looking Jones grumbled, "I could have won the whole damn thing if I hadn't screwed up my flip turn on seven."
The dinner was wonderful and everyone enjoyed him or herself, including the Mensas who decided not to play. What we didn't know was that, anticipating a post-golf run on Aleve, Capodilupo had loaded up on Bayer stock on Friday afternoon while Evans, also a native, had sold uncovered puts on Pfizer, maker of Advil. Both realized handsome profits.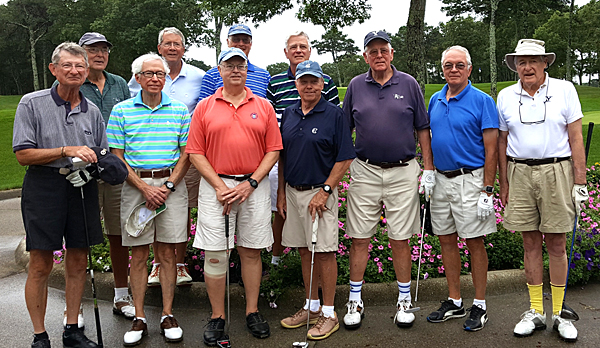 (left to right) Neil Hoffmann, Dave Schumacher, Dave Lindsay, Charlie Sawyer '63, John Evans, Ted Jones, Sam Francis, Larry Capodilupo, Chris Getman, Ward Wickwire, Butch Hetherington
Tuesday golf was at Cape Cod National Golf Club in Brewster, a first-class private club with elegant landscaping cut through the pitch pine and oak forest. With 98 bunkers it is a challenge, and certainly feels much longer than the yardages on the card. With paved cart paths there was no problem with carts despite more intermittent rain. It was clear from the scores that Monday's outing had taken its toll on our aging bodies.
Dinner on Tuesday night was at the Chatham Beach and Tennis Club overlooking the Atlantic Ocean and the inlet to Pleasant Bay. It is about two miles from the Pleasant Bay Village Resort where most of the participants were staying. Dinner was called for 6:00pm. Everyone was having a great time when Getman, usually the first to arrive at the bar, arrived at 6:30 and angrily asked if there was a divorce lawyer in the house. "I've had it with Siri," he groused. "When she said 'your destination is 30 miles on your right,' I knew something was amiss. When she asked 'do you talk to your mother like that?' I went over the top." His late arrival did enable him to ask the question, "Why is a martini like a woman's breast?" Because one is too few, two is just right, and three is too many. He got it just right.
At the end of dinner we were serenaded by the Whiff quartet of Rossiter, McBride, Evans, and Sawyer. They were quite wonderful, though when Evans hit a high "C" one of the lights in the chandelier broke, and when McBride dropped a low "F" the floor started to shake and everyone hit the floor, thinking we were in the middle of an earthquake.
Wednesday golf was at the Captains Port course in Brewster, a typical good Cape Cod course. The weather finally cooperated and we saw the sun for a good part of the day. Unfortunately, Ted Jones fell and badly damaged his knee at the motel where he was staying and spent the morning in the hospital rather than on the golf course. The crack EMT team of Larry and Jan stayed with him in the hospital in Hyannis, and delivered him to Tracy and Ward who made the handoff at Logan in plenty of time. The ever-ebullient Jones, despite needing surgery on his knee, vowed to be back in time for the spring outing. The only positive from Ted's fall was that the judges awarded him an 8 and two 9's.
Despite the weather, a great time was had by all, and there was much enthusiasm for similar events in the future.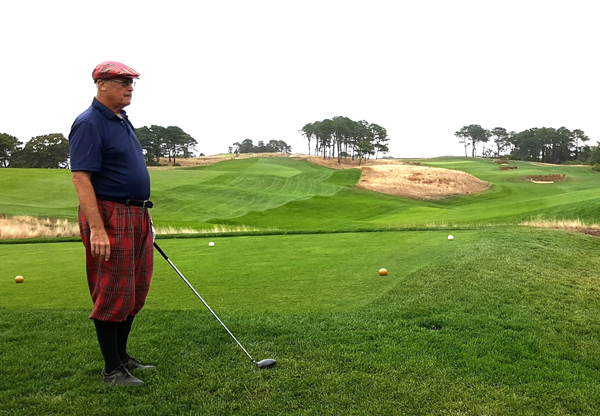 The redoubtable Ted Jones on the first tee at Eastward Ho!
---
The above account of the event was written by John Evans, with subsequent fanciful additions by Chris Getman.