Class News
Fink '64, Howell '64, McAlenney '64, Trippe '64 row at Henley
Bill Fink, Harry Howell, Paul McAlenney, Ed Trippe complete a "row-over" at the Henley Royal Regatta
These four classmates, along with Duncan Spencer '62, did what the Brits call a "row-over" at the Henley Royal Regatta, following the morning's racing on July 3, 2015. They retraced their 1965 victory in the Prince Philip Challenge Cup when they rowed for the Leander Club. This year McAlenney coxed, Trippe stroked, Fink rowed at 3, Howell was at 2, and Spencer was at bow (seated right to left in the photo and video).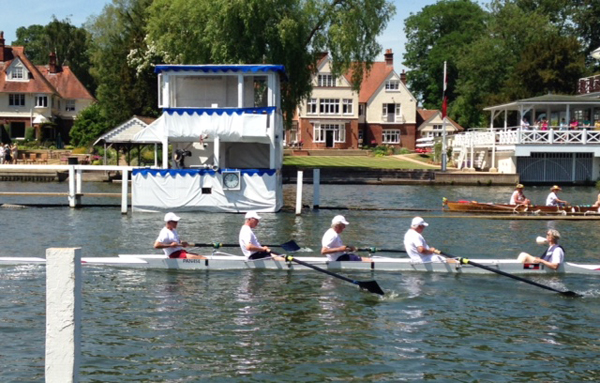 Also at the Regatta, the Yale men's heavyweight eight beat national champion Washington to win the Ladies' Challenge Plate.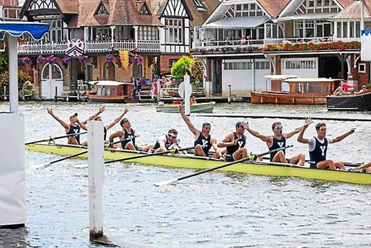 The Bulldogs' coxed four finished as runner-up for the Prince Albert Cup. 
The Henley Royal Regatta, which dates back to 1839, included 526 crews from 18 countries this year.  It takes place on the Thames River in Henley-on-Thames, England.