Class News
Tony Lavely's Christmas Card 2005
[Webmaster's note: The corresponding secretary of our class, Tony Lavely, sent me a Christmas card with a modest encouragement to post the family photo, perhaps so that the Lavely family could enjoy their 15 minutes of web fame. I've taken the liberty of posting his Christmas letter. I enjoyed his pardonable pride in his family's impressive accomplishments. I'm sure he won't mind if I pass the same along to you, along with my own best wishes for a happy holiday season and a joyous and successful new year. - SHF]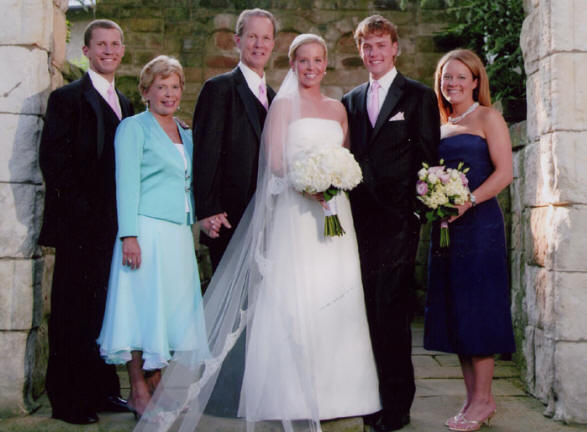 Dear Friends:

You'll find two "firsts" in the Lavely family Christmas card this year … more people "on the cover" and a typed letter enclosed. The first decision was an easy one, given the family celebration at the marriage of Hillary and Parker. The second decision was dictated by the deluge (no pun intended) of events in 2005.

Wanda and I moved to New Orleans last April after we sold our home in Louisville. I had been commuting since August 2004, when I joined Ruth's Chris Steak House at their home office in New Orleans. Wanda and I found an older home near the Tulane University campus that needed extensive renovation, so we left most of our belongings in storage in Kentucky and moved into an apartment near my office. Ruth's Chris went public in early August only weeks before Hurricane Katrina hit Gulf Coast. In the aftermath of the hurricane, the company made the decision to relocate permanently to Orlando, Florida. Wanda and I have moved into an apartment while we look for a home in Orlando. We continue to support and pray for the recovery of New Orleans and its diverse and rich culture of food, music, art, and joie de vivre.

The major family event of the year was the marriage of Hillary and Parker. They had become engaged in 2004 and were married on July 2, 2005. We have known the Corbins since 1995 and were delighted with Hillary and Parker's commitment to each other. The Washington National Cathedral was a magnificent setting and rang with the voices of a gospel choir celebrating the ceremony with "Oh, Happy Day!"

After graduating magna cum Iaude with honors from Harvard in 2004, where she captained the lacrosse team, Vanessa clerked at Lavely & Singer in Los Angeles for a year. She entered her first year at UCLA Law School this fall. Benjamin is in his senior year at Amherst College, majoring in history. As captain he led the soccer team to the league championship game this fall. He will finish his college athletic career this spring on the lacrosse team and then explore a career in banking.

We continue to be blessed with family and friends far and wide, and we wish all of you a happy and prosperous New Year.
Tony