Class News
1964 Class Council recognizes Class leadership in creating and sustaining the "new" Mory's
At its annual meeting on February 7, your Class Council unanimously ratified a motion to contribute $1,000 to Mory's Preservation, Inc. (a non-profit that is responsible for the building and the many archived items within it) in 2014-15.
This contribution is made in recognition of the importance of Mory's as a meeting place for 1964 (our Kickoff 50th Reunion dinner was held there as have many Class Council dinners) and for the outstanding work done by Chris Getman and Terry Holcombe over the years.
At Mory's 100th Anniversary in 2014, Will Elting underwrote a Mory's Green Cup engraved to the Class of 1964.  Classmates are welcome to order a Green Cup in this handsome vessel when visiting Mory's.
In addition, there are twelve other classmates recognized in the "1964 Class Alcove" that was commemorated in 2010 at the end of the renovation: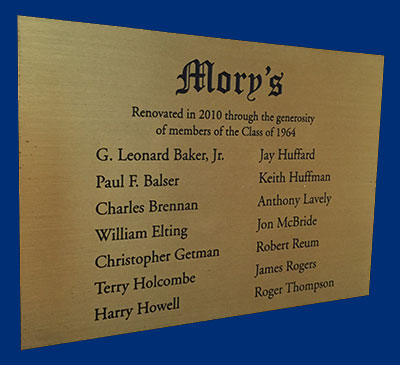 As an ongoing Class project, we have remembered 163 departed classmates (so far) with named memorial bricks in the Mory's Rose Garden outside the Temple Bar through individual classmate donations of over $1,700.  Classmates who wish to donate a named memorial brick will find donation instructions here.