Class News
Mike Pyle '61, captain of 1960 undefeated football team, dies at 76
On July 29, 2015, Mike Pyle passed away. Though not a classmate, Mike is remembered by many members of the Class of 1964 as the larger-than-life captain of the undefeated football team in the fall of our freshman year.  Was there a better way to be welcomed to the campus and Yale traditions?
The New York Times reported his death and recognized his career with the Chicago Bears, a team he also led as captain.  Mike's leadership was also recognized in his role as President of the NFL Players Association. 
Sadly, but important to recognize, his death was due to dementia most likely caused by Chronic Traumatic Encephalopathy (CTE).  With Mike's death, we are reminded that our own football captain (and also a center), George Humphrey, died in 2012 with similar symptoms.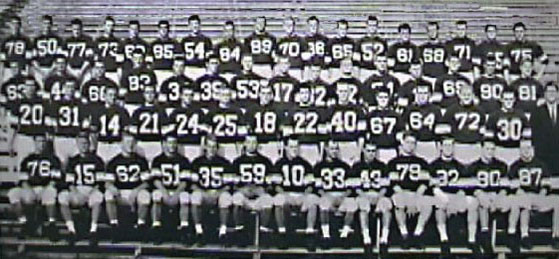 When Mike's death was reported, there was an outpouring of memories from classes 1961-1964, and especially from football players who knew him best.
Dave Kalayjian wrote: "Coming in as a frosh center, I remember meeting Mike. My first thought was, 'This guy is a MAN in a boy's league!' Huge shoes to fill. What a shame. This repetitive head trauma is taking an enormous toll."
Dan Pollack wrote: "Being a lowly freshman at Yale when these guys were seniors eliminated me from any personal contact. However, just to say that I played at the same university with Mike is an honor.  I remember spending Thanksgiving in NYC at the same hotel where the Yale team stayed. I believe it was the night they received the Lambert Trophy as the best team in the East. We happened to enter the elevator to go up to our room at the same time that Mike, Hardy Will, Tom Singleton, and Ben Balm did. They were, shall we say, very inebriated ... feeling just fine. Next thing I know, Mike rips the emergency phone from the elevator wall and Singleton has the wire end in his mouth and Mike is pretending to talk to him. Hilarious !!! I was fortunate to watch Mike play for the Bears for many years as the anchor in their offensive line at center. He even married a girl I knew in high school."
Mike Mazer wrote: "I never met Pyle, but I remember him well. And what's particularly interesting is that he moved to tackle to let Hardy Will play center. I did meet Hardy. He was our 191 lb. wrestler when I was a freshman. Fred Buell, who Bob Hannah told me may have been the best wrestler on our freshman team (130 lb.) and I (also at that weight) once took on Will together. The two of us couldn't move him an inch. Not an inch. If Will was that strong, Pyle must have been something."
Tony Lavely wrote:  "Like all the freshmen football players, I was in awe of Mike Pyle, the varsity captain. I came to admire him even more as the team accomplished an undefeated season.  I had my 15 minutes of fame that year with a photo in Sports Illustrated as part of a feature on The Game.  Years later, when I moved to Chicago, I reconnected with Mike in the football-recruiting process.  You could always count on Mike's attending the events at the Yale Club of Chicago.  My most vivid memory of Mike is in the video of his 50th Yale reunion in 2011. Though beginning to fail mentally, he had the wide smile and sparkling eyes, and the logo on his baseball cap that said it all: '1960 Still Undefeated'."
If you would like to add a remembrance of Mike, please email our webmaster.