Class News
Gerry Shea '64 London book signing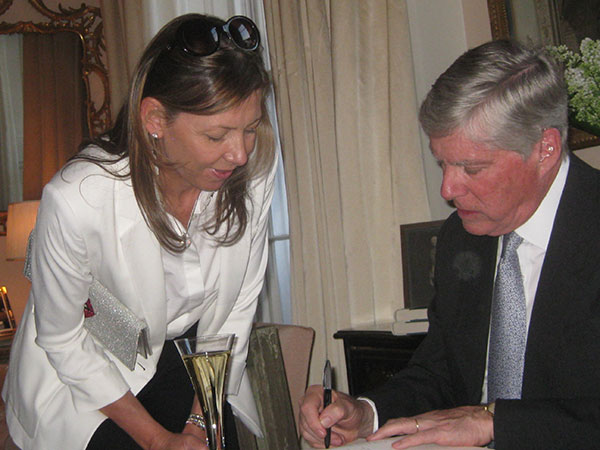 Blaine Krickl '64 reports that on St. George's Day, April 23rd, London friends of Gerry Shea staged a book-signing event to mark the publication of Gerry's memoir, Song Without Words.  What began as considerable stacks of the book at the evening's outset dwindled to nearly none as Gerry signed copy after copy as well as being persuaded to offer some impromptu remarks about the genesis and gestation of the work.
Having rushed to read the book myself, I can attest to its quality and worthiness, not simply as testament to perseverance in the face of adversity, but because of the clever manner in which Gerry describes what he was able to hear for nearly three decades, from the age of six, and how he developed coping mechanisms which enabled him to overcome the disability.  A French-language edition of Song Without Words is planned and will be published by Éditions Denoël (Gallimard) in Paris late next year.
With their spouses/others supporting Gerry and Claire on the night were Messrs Nagel, Sherman, and Ziegler of the Class of 1964. Chuck Lubar '63 attended as well.  The photo is courtesy of Karl Ziegler, for which he retains the rights.
Read reviews of the book in The Boston Globe, The Washington Post, and The American Lawyer.