Class News
Squash Haven has best-ever championship results
Squash Haven is a Yale-affiliated organization — supported by the Class of 1964 — that promotes squash participation and college aspirations among inner-city youth in New Haven.  Here is their year-end newsletter, dated July 1, 2015.
The end of the Squash Haven year always feels like a sprint. As we pick our heads up after two weeks of celebration and accomplishment, we are still smiling and are eager to share some of our team members' many successes with you. Read on for news from our season-ending NUSEA Individuals tournament, graduations, year-end party, and the beginning of summer programming.
Best ever finish at NUSEA Individuals: Squash Haven wins 8 of 16 titles!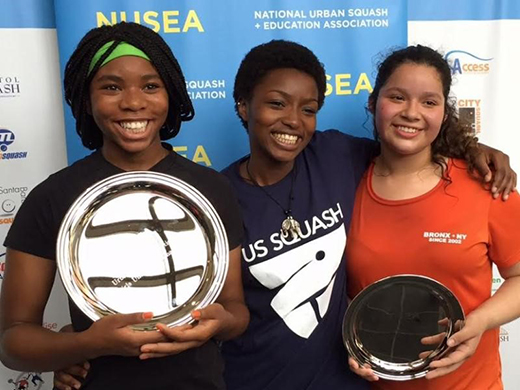 Girls U15s Champion Bethany is all smiles after her second NUSEA Individual
Championship. She is flanked here by teammate Rafi and her City Squash opponent.
Buoyed by focused training and hard work in the classroom through the end of the school year, 60 team members headed to Williams and Amherst Colleges June 19th-21st for three days of spirited competition against 450 students from 16 urban squash programs. While we are most proud of the sportsmanship, determination, and consistent effort that were showcased throughout the weekend, Squash Haven also came away with a lot of hardware. We finished the season with our strongest-ever combined academic and athletic performances and were rewarded with half of the championships awarded.
At Saturday night's academic awards ceremony, 42 team members were named NUSEA Scholar Athletes for having academic averages over 90%. In addition, Squash Haven team members came away with four academic awards. Senior Michael Rodriguez was named the Under 19 essay winner, and Alexandra Matamoros, Pratiksha Mishra, and Rachel Matamoros were each named the art winners for their submissions in response to the query, "Who would you name Person of the Year?"
Not satisfied, team members hit the courts Sunday ready to finish the season with their best and hardest fought squash. Karen Escalera brought home Squash Haven's first championship with a five game triumph in the Girls Under 13s, followed soon after by Bethany Turnage's second NUSEA Individual Championship, this time in the Girls Under 15s. At Amherst, our seniors finished out their urban squash careers in style. In the Girls Under 19 competition, Ashley Sanchez bested teammate Aaliyah Davidson for the championship while Michael Rodriguez capped a banner "Double Crown" weekend with a four-game win in the Boys Under 19s.
Our biggest class of graduates ever: 13 seniors, 17 8th graders
Just before we headed to NUSEA Individuals, staff and team members fanned out across the city to celebrate the graduations of 13 high-school seniors and 17 eighth-grade students, our largest-ever classes of graduates. Besides being a large class, this year's seniors are a very loyal class; every graduating senior started Squash Haven in fifth or sixth grade as part of our first or second year. In addition, four seniors became our first ever boarding school graduates, kicking off graduation season with diplomas from Canterbury, Loomis, Suffield, and Westover.
One of Squash Haven's core values is gratitude, and it played a large role in Alanis Perez's graduation day from Canterbury. A bouquet of flowers arrived at our office that day with a note that said, "Thank you so much for help through all my years in Squash Haven. Being part of it has forever changed my life." Congratulations to all of our graduates and thank YOU for the many ways you have changed our lives.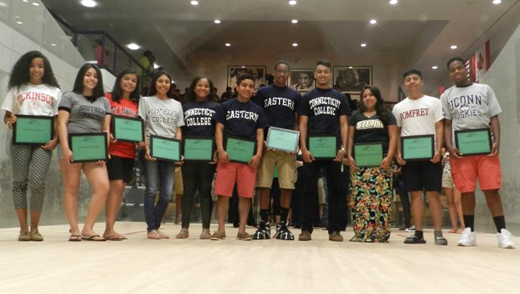 Our seniors strike a pose at the year end party in their college t-shirts and with their
signature attributes. Missing are Dania (Villanova) and Dante (Skidmore).
Year-end party celebrates our eighth year
Team members, families, staff, and friends came together in the squash courts last Wednesday to honor the many accomplishments of our eighth year. First-, second-, and third-year participants were honored with new Squash Haven apparel; squash was showcased in a number of exhibitions; and awards were given to standout team members in a variety of areas. Our Star of the Year awards, Squash Haven's highest honor, were given to Umarr Lahun (Rookie of the Year), Karen Escalera (middle school), and Alexandra Matamoros and Michael Rodriguez (high school). The evening culminated with the presentation of individual awards and a college T-shirt to each senior and his family as well as a slideshow made by team members Vinayak and Pratiksha Mishra.

. . . And summer has already begun for many team members!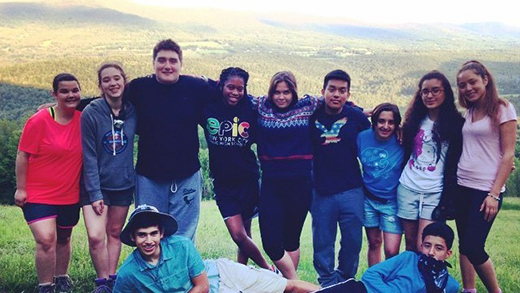 Denise heads out for five weeks in New England
with first time summer partner The Field Academy.
In addition to five weeks of rigorous Squash Haven academic and squash programming that will begin next Monday, many of our students have already begun a variety of enriching summer experiences. Denise has already headed to the Field Academy for a five-week writing intensive exploration of New England, Elexis and Franki began Choate's summer program this weekend at Choate, and Dolores ventured to Taft for a five-week summer academic camp. In addition, a larger contingent of team members began the Breakthrough Program at Hopkins while ten team members left yesterday morning for a four-day urban squash training camp at Deerfield Academy. It is going to be a great summer and we can't wait to start full-time programming next week!
Thanks to each of you for the enthusiasm, generosity, and support that have enabled this to be such a fantastic year. We look forward to sharing our continued news with you.
With gratitude,
Christi, John, Julie, Kelonda, Kyle, Owen, and Team Squash Haven