Class News
Golf Made Difficult
a book by Tom Trowbridge, '64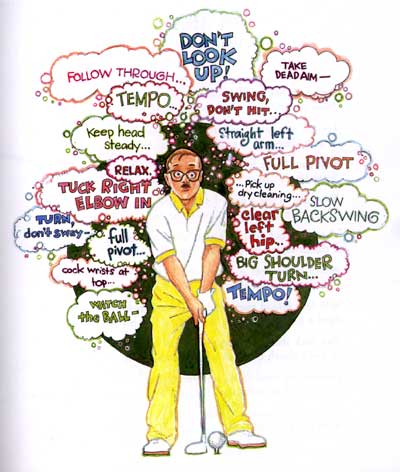 Golf Made Difficult is the illustrated story, told in rhyming couplets, of a golfing neophyte grappling with the game's complexities and frustrations. The author, Tom Trowbridge, describes it as "something of a Dr. Seussian approach to the game."
The book, with illustrations by Bob Schulenberg, opens with a puzzled non-golfer listening as his colleagues, in a language all their own, discuss "hosels," "Mulligans" and "the yips." He decides to take up the game. He picks out equipment, studies the rules and learns the swing. Little makes sense. A two-inch putt counts the same as a 200-yard drive. The ball, though perfectly stationary, is inexplicably difficult to hit. This may be the only sport in which walking is often prohibited. After immersing himself in the dizzying details of the game, his moment finally comes: his boss invites him to play. Walking to the first tee, he realizes that his career may be at stake.
The story makes observations on, for example, the golf course:
The course lets you think that you're on the right track.
It allows one good shot and you keep coming back.

And so we forget each time we begin
Like the house in gambling, the course always will win.
on gamesmanship:
If his game holds up, you'll certainly lose.
Ask him: "On your downswing, which muscles do you use?"

Or when he's putting well, you can instill some doubt.
Try asking: "When you putt, do you breathe in or out?"
and on the origin of the sport's name:
It's a four-letter word, but it isn't a curse.
They took the word "flog" and spelled it in reverse.
---
About the author and illustrator:
Tom Trowbridge's essays have appeared on the op-ed page of The New York Times and in a variety of publications. A collection, Ask Your Mother: Family Life and Other Impossible Situations, was published by William Morrow & Co. He practices law in New York City.
Bob Schulenberg's editorial art has appeared in many magazines in the U.S. and Europe including Time, Fortune, Vogue, Esquire, Elle and Look. He has done advertising campaigns for Proctor & Gamble, Hertz, Hershey's and Mumm's among others. He is a film production designer and lives in Los Angeles.
Golf Made Difficult is 64 pages, with 30 pages of four color illustrations. It lists for $14.95 and may be ordered at 800-431-1579 (fax: 918-835-0398), e-mail: bookch@aol.com. It is also available on Amazon.com.