Class News
Whiffenpoofs '64 in Paris
Letter from Blaine Krickl (with pictures)
August 8, 2001
On June 20th, Whiffenpoofs from our class descended, by invitation, on Gerry and Claire Shea at their country seat outside Paris (see below for pictures). The reunion was precipitated by the Tercentenary Tour by the Yale Alumni Chorus (YAC), in which several Whiffs were taking part. Gerry organized a punishing round of rehearsals at his splendid house, interspersing them with carrots in the form of golf outings and trips to nearby attractions. Having tuned up over several sessions, the Whiffs (Baskey, Wilson, McBride, Huffman, Shea, Rossiter, Hagerty, Clay, Evans, Schulz, Thompson) tested their prowess as guests of nearby Harvard friends at a supper concert Thursday evening. By Friday evening, they were "as ready as they were ever going to be" and supported by a cadre of Shea friends from Paris, their wives, and their classmates, Krickl, Heyworth, and Musil (and their wives), up they stood.
Not only was it a setting non pareil, with rolling lawns, woodlands surrounding, and a view over the lake, it was a glorious, warm evening with a buzz of anticipation among the audience. Simply put, they sang with panache, style, and enormous joie de vivre … all the Whiff favorites and then some. What marked the performance as special was the delight with which the French guests received and applauded the songs. In fact, despite our being guests in another culture, the evening was conducted largely in English, much to the surprise of the Yale crowd. By the end of the second set, the voices were ready for a rest but the sense of grand occasion was palpable. On Saturday, the group scattered, some to resume their tour of France, some to join YAC en route to St Petersburg, others to head home. As Buck Wilson said, he had no intention of ever missing a Whiff reunion again. With the London mini in Spring, 2003, in mind, the Whiffs have earmarked that gathering for their next reunion … this is clearly an additional blandishment to the many already available in the UK.
The Krickls and Baskeys detoured separately off to Giverny and Claude Monet's splendid garden and house, meeting up (by design) for luncheon in Rouen on Sunday, including a wonderful tour of the gothic cathedral, a walk through the old town to the Place de Vieux Marché where Jeanne d'Arc was martyred in 1431, and an hour in the excellent Musée des Beaux Arts, before heading pell mell for Calais and the ferry back to England. Many of the group met again the evening of July 6th when the YAC tour culminated in the St Paul's concert and reception, marking the close of the European observance of the Tercentenary.
---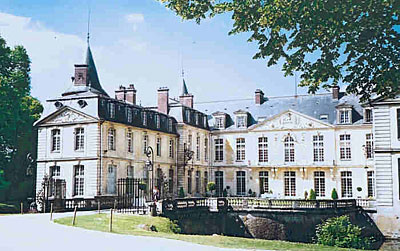 Splendid place for us all to be housed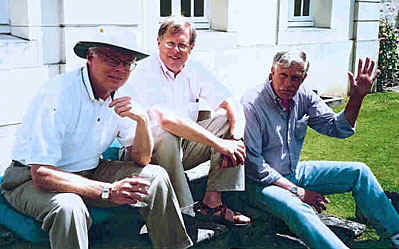 Three worthies relaxing ― Thompson, McBride, Rossiter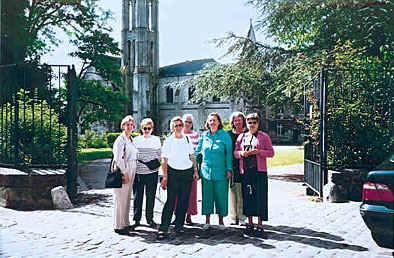 Claire Shea leads some of the support group
on a reconnoitre of Chantilly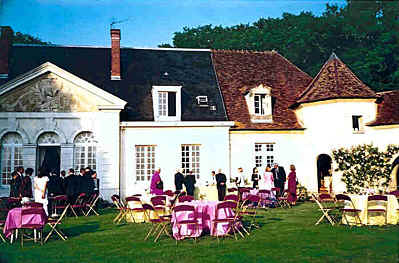 La Ramée, Claire & Gerry's splendid home
in readiness for the performance party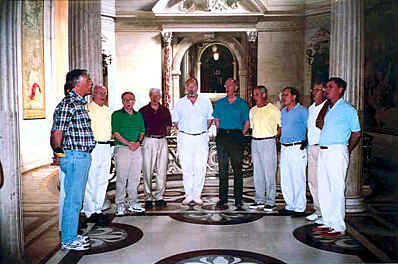 Eleven 'lost sheep' rehearse (left to right):
Rossiter, Wilson [hidden], Thompson, Baskey, Clay,
Schulz, Huffman, Hegarty, McBride, Evans, Shea
Sheep go a-wandering ― with shepherdesses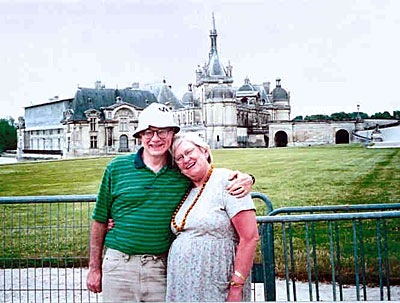 Nick and Jocelyn Baskey consider a weekend place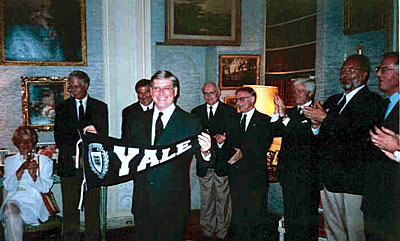 Gerry's banner meets with general approval from fellow Whiffs ...
[l to r] Rossiter, Wilson, Thompson, Baskey, Clay, Schulz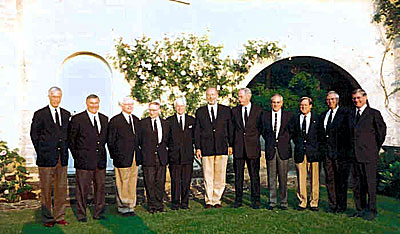 Eleven spiffy songsters, all in a row ...
[l to r] Rossiter, Wilson, Thompson, Baskey, Clay, Schulz,
Huffman, Hegarty, McBride, Evans, Shea [barely]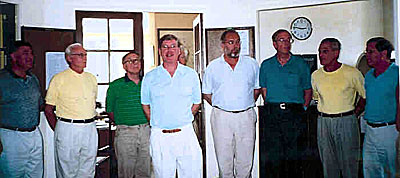 Shea practices his MacNamara backed by [l to r]
Wilson, Thompson, Baskey, Clay, Schulz, Huffman, and Hegarty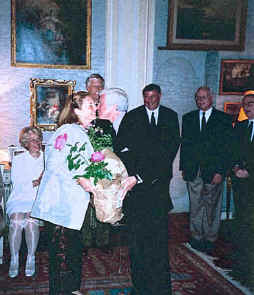 Claire Shea is crazy about roses ...
Steve Clay honors the hostess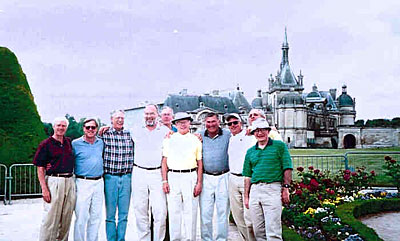 The guys like the Baskeys' weekend place as well.