In Memoriam
Geoffry D. C. Best
Geoff Best died on February 17, 2017. Here are his obituary and a remembrance of his memorial service.
---
Obituary
The New York Times
March 5, 2017
BEST — Geoffry Donald Charles, died February 17, at his home in New York City, surrounded by family and dedicated caregivers.
He was born in Dayton, Ohio, February 22, 1943, elder son of Vincent and Katrina Best of Dunstable, Massachusetts.
He graduated from the Middlesex School (1960), Yale University (Silliman College, Skull and Bones Society, 1964), and the University of Virginia Law School (1969), and married the late Suzanne Micaud, who died in 2015.
Geoffry taught English at the American University of Beirut (64-66) and served as a special assistant at the International Energy Agency in Paris before rising to senior partner in the international law firm of LeBoeuf, Lamb, Greene & MacRae, where he spent his legal career as a litigator.
A weight-lifting accident in 1995 precipitated a stroke that severely disabled him for the balance of his life.
A man of exceptional character, ability, courage, and humor, he was a loving and dedicated husband and father to his sons — Ramon, Charles, and Alan — and beloved grandfather to George and Helen. He is also survived by his sister, Phoebe Best-Devenish of Hancock, Maine; his brother, Eric P. Best of Carmel, NY; nieces Emily Kelleher-Best, Miranda Devenish Benefield, Isabel Best, and nephew William Best.
The family is planning a memorial service May 20 in New York City.
---
Remembrance, Memorial Service
Jon McBride '64
May 20, 2017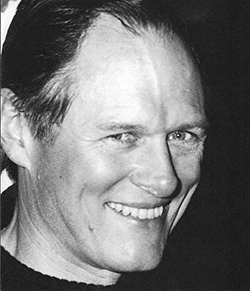 On May 20, 2017, on the lower East side of Manhattan near Union Square, in a gothic chapel reminiscent of many a building in New Haven, nearly 100 people gathered to remember and celebrate our classmate Geoffry Donald Charles Best. The attendees' ages spanned a wide range, from our contemporaries at the high end (I keep forgetting how old we are) to small Best grandchildren. The attendees' ethnicities were diverse — white, black, and brown — and included five of Geoff's caregivers who were asked to stand and be introduced and warmly thanked by Geoff's son Alan during his comments.
There were six speakers. Each spoke poignantly of the pre-stroke Geoff and the post-stroke Geoff. The collective verbal tapestry that emerged captured beautifully the elegant, reserved, twinkle-in-his-eye guy that I somewhat vaguely remember — it's been nearly 20 years since the last time I saw Geoff, at a Yale reunion.
Both sons, Charles and Alan, spoke so warmly of Geoff as "Dad," how 'available' he always was for them, even in his sometimes seemingly detached and distracted state. And they spoke of how, in his post-stroke incapacitated state, a warmth and emotional strain showed through. I was particularly touched by Alan's recounting how a speech therapist had asked Geoff who was the President of the US, and he could not verbalize Barack Obama; she then asked Geoff what year it was, and he could not find or utter the words to express it. Then she asked "who are your grandchildren," and he clearly stated each child's name, and included their birthdays as well. They could tell that the "essence" of Geoff was still intact.
In addition to the comments by sons Alan and Charles, Geoff's other son Ramon spoke. I did not know that there was a third son and do not know the story. Ramon did say that he had not met his father until he was 18, and then he described how helpful "Dad" had been for him as a sounding board in subsequent years. Clearly all three young men shared a comfortable camaraderie.
Geoff's Silliman roommate and closest friend, Tupper Brown, spoke and it was clear how genuinely Geoff was appreciated while alive and missed now gone. Also present were another roommate, Steve Klingelhofer, and another 1964 Silliman buddy of Geoff's, Andy Burrows. To the best of my knowledge, we four were the only Yale Class of 1964 representatives.
After Tupper Brown spoke, Geoff's sister Phoebe spoke touchingly about her big brother. Then Geoff's younger brother Eric spoke, as ebullient and effervescent as Geoff was patrician and, to all appearances, aloof. Eric enthusiastically told of how he relied on his big brother Geoff to learn about girls. He asked Geoff "how do you know when a girl wants you to kiss her?" Geoff's response was "If you want to kiss a girl, she wants to kiss you, possibly... "
Eric then told of one weekend when he, as a high-school kid, was visiting Geoff at Yale. He mentioned that Geoff had a roommate, Steve Klingelhofer, who had these two sisters who were absolute knockouts. He was most effusive in his description. He said that at one point during the weekend he was riding in the back seat of a car with a Klingelhofer girl on either side and he had this great urge to kiss one. So, believing in the infallibility of his big brother's counsel, he moved in for the kiss and suddenly her lips were unavailable. As he told it, this was how he learned what "possibly" actually meant. He was mortified.
The gathering howled at this story, as did Steve Klingelhofer, who was sitting beside me. He couldn't wait to tell his sisters of this story. I got a huge kick out of greeting brother Eric at the reception that followed and telling him how delighted Steve Klingelhofer had been by his story. He assured me I must have been mistaken ... it wasn't possible that Steve Klingelhofer was actually there when he told this story ... was it? Both Eric and Steve had a good laugh when they connected later in the reception.
It was nice to see Geoff so warmly remembered by his family and classmates.