In Memoriam
Lowell B. Hawkinson
Obituary
Boston Globe
January 10, 2018
HAWKINSON, Lowell B. Passed away suddenly as a result of an accident on Dec. 28, 2017, at the age of 74 in Boston.
Lowell was born Feb. 13, 1943, in Cheyenne, Wyoming, to Erna (Bleck) Hawkinson and Arthur Hawkinson, and raised in Minneapolis, Minnesota. He enjoyed sports, science, and music growing up.
Lowell excelled at Blake School in Minneapolis, graduating valedictorian of the Class of 1960. A highlight of his childhood was the opportunity to travel throughout Europe with his family and spend a year at Ecole Internationale School in Geneva, Switzerland. Lowell went on to attend Yale University, where he studied physics, math, languages, and history, with a focus on the early stages of computer language development.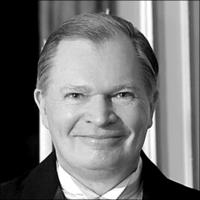 He left Yale to help establish the beginnings of the computer industry at Massachusetts Institute of Technology (MIT), where he was later an academic advisor to Ph.D. students for more than a decade. Lowell worked in MIT's Artificial Intelligence Computer Science Laboratory, and in 1980 published "XLMS: a linguistic memory system."
Lowell's professional legacy includes pioneering work with computer understanding of natural language and software technology. This work inspired many people and companies around the world. Lowell co-founded computer software firm Gensym Corporation in 1986 and served as Chairman and CEO through its 1996 IPO and beyond until 2006. Gensym's flagship G2 software applies real-time natural-language-rule technology for decisions that optimize operations and that detect, diagnose, and resolve costly problems in thousands of industrial settings around the globe.
Lowell and his family lived in many parts of the Boston area, including Back Bay, Lexington, and Belmont. In the late 1960s, Lowell met and fell in love with Suzanne Kean, a poet and computer programmer, whom he married in 1971. They welcomed daughter Laura in 1977 and remained lovingly wed until Suzanne passed away in 1982.
He was later married to realtor Jacqueline Almer for more than a decade, and he was step-father to her daughter Sarah.
At the turn of the new millennium, Lowell's life changed forever when he met Lilian Viveros, a journalist and author, at the theater in New York City. It was love at first meeting, and the couple were married in Lilian's native Sao Paulo, Brazil. They welcomed daughter Lizandra in 2005 and son Arthur in 2008.
Lowell was a devoted and active husband and father, and enjoyed bringing his family together and keeping close connections with his relatives. He and Lilian loved spending time with family in Brazil and Minnesota, and visiting favorite places such as New York City and Laguna Beach, California.
Lowell was active in the Unitarian Universalist First Church of Belmont, especially by encouraging his children in the church's youth theater program. He was a passionate supporter of his children's education, and is fondly remembered for having a ready answer to almost any question.
Lowell is survived by his wife, Lilian Hawkinson; his children, Laura (Nicholas) Patterson, Lizandra and Arthur Hawkinson; sister Marjorie (Bruce) Bundgaard; brothers Douglas and Roger (Jeanette) Hawkinson; and many nephews, nieces, great-nephews and great-nieces, as well as many dear friends.
Funeral services will be at 11 a.m. on Wednesday, Jan. 3, in the Story Chapel at Mt. Auburn Cemetery, 580 Mt. Auburn Street, Cambridge. A memorial service celebrating Lowell's life will take place on Saturday, Feb. 10, at the First Church of Belmont, Unitarian Universalist.
In lieu of flowers, please consider a donation in the name of Lowell Hawkinson to Breast Cancer Research Foundation or Massachusetts General Hospital - Division of Trauma, Emergency Surgery and Surgical Critical Care.