In Memoriam
W. Fielding Secor
Fielding Secor dies; active in community work
Obituary
Waterbury (CT) Republican-American
Tuesday, May 15, 2012
SOUTHBURY — Fielding Secor, 69, died early Sunday morning surrounded by his wife and children. Fielding was born in Waterbury on Sept. 8, 1942, the eldest child of William Julius Secor Jr. and Barbara Wynne Secor. His paternal grandparents were William J. Secor and Gertrude Lynch Secor; his maternal grandparents were the Hon. Kenneth Wynne, former chief justice of Connecticut Supreme Court, and Mary Fielding Wynne. Fielding is survived by his wife, Judith Godburn, his son, Casey McAdoo Secor of Columbia, S.C., and his daughter, Sarah Secor Malzone and her husband, Wes, of Housatonic, Mass. The sunshine of Fielding's life was his four-year-old granddaughter, Sophie Meldrim Malzone.

Fielding is also survived by his mother, Barbara Wynne Secor of Vero Beach, Fla., and his siblings, Betsey Secor Delaney of Providence, R.I., John Hoover Secor and his wife, Leslie, of Harwinton, Barbara Wynne Secor of Southbury, Libbie Secor Hardy and her husband, Tom, of Plymouth, Mass., and Samuel Mason Secor of Washington, Conn. He is also survived by nine nieces and nephews, whom he was crazy about.

A member of the Hotchkiss School, class of 1960, he graduated from Yale College in 1964 and was a member of the senior secret society, Wolf's Head. He was coxswain of the Yale junior varsity crew. After Yale he attended Cornell University School of Law, graduating in 1967. His 40 year career at the law firm of Upson, Secor, Cassidy and McPartland was interrupted by his enlistment in the U.S. Navy in 1968. He served his country honorably in the Judge Advocate General Corp. and was retired from the United States Naval Reserve at the rank of captain.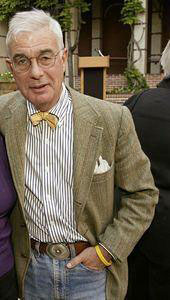 Known for the brightly colored handkerchiefs trailing out of his back pocket, Fielding was indeed a presence in the Waterbury community, sporting a bow tie and very often tattered sports coat or espadrilles. Fielding was involved in many humanitarian and altruistic interests in his community. He served on numerous boards and commissions, including the Boys Club, Flanders Nature Center, and the Waterbury Symphony Orchestra.

Fielding's enduring passion, however, was the Mattatuck Museum. With a tenure of over 35 years on the board, he served as president for eight years, overseeing the Museum's first multimillion capital campaign and the renovation of a move to the new Museum building at 144 West Main Street in 1986. He continued to work for the Museum as a vigorous member of the executive committee, the finance committee, the building committee, and the collections committee. So passionate was he about raising funds for the Museum's programs and interests that he unabashedly hit up his friends and colleagues whenever — and wherever — he met them.

Fielding had a deep and abiding love for art, history (especially American history), and English and American literature. His children especially remember their father reading Dylan Thomas's A Child's Christmas in Wales and the poetry of A. A. Milne.

Fielding was also a devoted member of the former Waterbury Club, Highfield, the New York Yacht Club, the Mory's Association, and the Newport Reading Room. An avid sailor all of his life, Fielding taught sailing at the Edgartown (MA) Yacht Club and made two trans-Atlantic crossings on a Hinckley sloop. When at Martha's Vineyard, he could be seen sculling around Vineyard Haven harbor or sailing with his late father-in-law around West Chop.

Fielding was a rara avis, beloved by all who knew him well. His demeanor can be summed up by the moniker that his granddaughter, Sophie, used for him: "Grumps."

Fielding was a colorful and irreverent character — a curmudgeon who will be deeply missed. Memorial contributions may be made to Vitas Innovative Hospice Care, 1579 Straits Turnpike, Middlebury, CT 06762, and the Mattatuck Museum, 144 West Main St., Waterbury, CT 06702.

A memorial service is being planned and will be announced at a later date. The Southbury Funeral Home of Munson-Lovetere, 235 Main St. North, is in charge of arrangements.

To place an online condolence, visit www.munsonloveterefuneralhome.com.