In Memoriam
Edward Peter Vollertsen III
Obituary
Edward Peter Vollertsen III passed away peacefully surrounded by his family on Tuesday, January 30, 2018.
Ed was born on January 2, 1943 in San Antonio, Texas to Edward Peter Vollertsen, Jr. and Evelyn Read Vollertsen. Ed attended Christian Brothers High School in Memphis, Tennessee. After graduating, he attended Yale University on an ROTC scholarship. He graduated with BA in Economics in 1964.
After graduating from Yale, Ed was commissioned as an Ensign in the United States Navy and served for 5½ years in the South Pacific and Vietnam.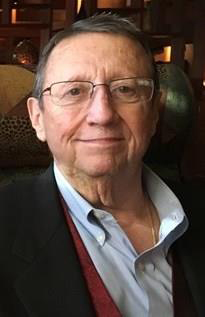 After his service in the Navy, Ed came to Atlanta in 1970 and joined Citizens & Southern Bank. During his time at C&S, he served as senior credit officer for both the commercial and residential real-estate divisions. He was also special asset officer for Citizens & Southern Real Estate Trust, special asset officer for the commercial real estate department, and senior credit officer for the international department. After that Ed served as a special asset officer working with all the major troubled assets of the bank and then became the manager of the Special Assets Department at C&S. After that assignment he became the senior credit officer for the capital-markets division and was responsible for all credit lines to all banks and broker-dealers in the United States, including evaluating and setting credit lines for the developing derivatives markets. As such, he was a charter member of the New York Credit Analysts Society, an association of the senior credit officers of all major banks and brokerage firms in the U.S. whose responsibilities included setting risk terms on new products, especially derivatives.
Upon Leaving C&S in 1993, which became Bank of America, Ed was a founding partner of Community Bank Capital Corporation, a holding company that went on to buy Cherokee Federal Bank and Bank of North Georgia. While at Bank of North Georgia he was an Executive Vice President and managed the special asset division of the bank and variously served as chief credit officer of the bank, member of the bank board of directors, and a member of the executive loan committee.
Ed retired from Bank of North Georgia, now part of Synovus, in 2008. From 2009 to 2012 he was a special asset consultant for various banks dealing with problem loans/financial assets. In 2012 he joined American Southern Insurance Companies as Vice President of Surety Bond Claims. He remained there until his passing.

Ed was responsible for overseeing, gathering, and publishing one of the first collateral documentation manuals for banks in Georgia. He co-authored Problem Loan Strategies, published by Robert Morris Associates, a bank-credit organization. Problem Loan Strategies remains one of RMA's best-selling books. Ed taught a course in this area for over 15 years for both Robert Morris Associates and Stonier Graduate School of Banking.
In addition to his BA from Yale University, Ed received an MBA from Georgia State University and was a graduate of the Credit and Financial Management School at Dartmouth University and the Finance Institute at the University of Michigan.
Ed was also an active member of the Order of Saint Lazarus of Jerusalem. He was a Knight of the order as well as a Commander of the Southeastern Commandery.

Ed was an Eagle Scout and a lover of fly-tying and fishing. He was also a mentor and friend to many in the Atlanta real-estate, banking, and legal community with whom he maintained regular contact.
He is survived by his loving wife of 44 years, Louise Gerrity Vollertsen, daughter Caroline Louise Vollertsen, and sister, Suzanne Cliffe of New Orleans, LA. Friends are cordially invited to a visitation with the family on Wednesday February 7 from 6:00pm to 8:00pm at H.M. Patterson & Son Arlington Chapel, 173 Allen Road, NE, Sandy Springs. The funeral mass will be celebrated at ten o'clock in the morning on Thursday, February 8 at The Cathedral of Christ the King with a reception to follow. The rite of committal will follow at two o'clock in the afternoon at Georgia National Cemetery in Canton, Ga.

In lieu of flowers, contribution s may be directed to Project Healing Waters Fly Fishing, P.O. Box 695, LaPlata, MD 20646.