In Memoriam
Alling "Woody" Woodruff, Jr.
Woody died on June 19, 2016, after a long bout with blood chemistry imbalances. A remembrance celebration was held at the Fraunces Tavern Museum, New York City, on August 12, 2016.
Below is Woody's biography from his LinkedIn page, where he characterized himself as a "gentleman of leisure." Below that is the essay that he wrote for our 50th Reunion Class Book, followed by a remembrance from his son Josh.
---
LinkedIn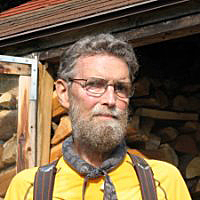 I've worked in advertising on three continents, as a copywriter for Young & Rubicam de España, S.A., as creative director of Young & Rubicam de Venezuela, S.A., as associate creative director at Young & Rubicam New York, and as creative director at Marsteller New York. My Spanish is fair to middling, except that I am completely unable to understand Mexican comedians.
Mostly I have worked on complex products and services rather than consumer goods. I've specialized in making complex subjects understandable and technical subjects meaningful.
Since being involuntarily retired (it's the economy, stupid) I have become the proprietor and copywriter of Stammwood, LLC, and have been working on projects for the Hearing Health Foundation, for a contract research organization that conducts clinical trials for biopharmaceutical companies, for an oilfield services company, and for a few others. I also do volunteer work at the New York Historical Society and at the Best Friends Animal Sanctuary.
Specialties
Pharmaceutical industry
Financial services industry (both retail and institutional)
Oil services industry
Not-for-profit organizations
Experience
Proprietor, Stammwood LLC, 2012 – 2016
Secretary, MPD Foundation, 2003 – 2010 (7 years)
Creative director/writer, Marsteller, 1992 – 2009 (17 years)
Associate creative director, Young & Rubicam, 1964 – 1980 (16 years)
---
Essay, 50th Reunion Class Book
When I was at Yale, I forgot to think about how I'd earn a living after I graduated. I was an English major, and I liked to write, so I decided to become a writer. I got a summer internship at an advertising agency called Young & Rubicam, and they invited me back after graduation. So I stayed there, in New York, Madrid, and Caracas, for 40 odd years.
I still read lots of books, mostly American history. Books printed on paper. I write on a computer, but I don't own a smartphone. I open doors for ladies, and walk on the outside when we're on the sidewalk together.
---
Remembrance by his son Josh Woodruff '93
It is with terrible sadness that I write to let you know that my dad, Woody Woodruff (Alling Woodruff Jr., DC '64) age 74, passed away this past July 10, 2016 at Beth Israel Hospital in New York City. He was a life-long resident of New York City. The cause of death was complications from myelofibrosis, a rare blood cancer.
Woody was born on February 18, 1942 in New York City. He lived almost his entire life in New York. He was the son of Alling Woodruff and Edith May Hartshorn. Woody was a graduate of the Hill School (1960) and Yale University (1964), where he graduated Phi Beta Kappa. He served in the US Army as a sergeant from 1965 to 1968 where he was awarded a National Defense Service Medal. Subsequently, he worked in advertising with Young and Rubicam, Bozell Jacobs, and Burson Marsteller, and then freelanced until his death.
Woody enjoyed writing, which is what he did in advertising. He also wrote articles and opinion pieces. His article in the 1964 Yale Banner gained notoriety for Yale and caused his roommate, Chip Levengood, to have to make public apologies. He later went on to write an article for Ramparts, an anti-war magazine where he wrote an insider's view of the 1968 march on the Pentagon. His article managed to cause an uproar inside the Pentagon as well as in the peace movement itself.
At Yale, Woody served as stage manager of the undergraduate Dramatic Society, his principal extracurricular activity. In this capacity, he helped design sets for the Dramat's three major annual productions, took up hammer and saw to build the sets, and then organized all the behind-the-curtain activities needed to have a smooth production for the audience. Woody displayed the skills as a Mr. Fixit which he would use throughout his life. In the classroom, his most demanding and most fulfilling course was a Daily Themes Davenport seminar taught by Robert Penn Warren, the Pulitzer-Prize-winning author and historian. The discipline of writing a one-page assignment each day for Professor Warren — who subsequently returned each effort with many suggestions — surely laid the underpinnings for his successful career in advertising.
Though he was from the City, his great joy came from working on his home in the Catskill Mountains of New York. He cultivated wildflowers, used his tractor and backhoe, and built rock walls without masonry. He was an avid lover of American history, most specifically the Revolutionary War and Civil War periods. He also regularly volunteered at Best Friends Animal Society for pet adoption events.
He is survived by his wife Cissy Stamm, his son Joshua M. Woodruff, his daughter-in-law Andrea O. Woodruff, three granddaughters Emma M. Woodruff, Abigail A. Woodruff, and Grace H. Woodruff, and his brother Christian H. Woodruff. He will also be missed by his previous wife Nicolle G. Woodruff and his step-daughter Lexi Woodruff.
In lieu of flowers please make donations to the Best Friends Animal Society.