Class News
Len Baker receives Yale Medal
Len Baker '64 was one of six individuals selected by the Association of Yale Alumni (AYA) to receive the Yale Medal in 2013. At right, Len is signing the Medal Book. The award was made at the annual AYA assembly, held November 21-23, 2013. Len joins two other members of the Class of 1964, Terry Holcombe and Chris Getman, in the list of Yale Medal recipients.
Inaugurated in 1952, the Yale Medal is the highest award presented by the AYA and is conferred solely to recognize and honor outstanding individual service to the university. Since its inception, the Yale Medal has been presented to 293 individuals, all of whom not only showed extraordinary devotion to the ideals of the university, but also were conspicuous in demonstrating their support of Yale through extensive, exemplary service on behalf of Yale as a whole or one of its many schools, institutes, or programs.
The citation recognizing Len's contributions is as follows:
G. Leonard Baker Jr. '64 has demonstrated, through his numerous contributions, a deep dedication to Yale. He has served as a member of the AYA Board of Governors and he has been a devoted member of the Class of 1964 serving as class secretary, class council member, class agent, and reunion gift committee chair. As a member of the Yale Corporation he served on numerous committees including Buildings and Grounds, Development and Alumni Affairs, Finance, and Investments for the entirety of his term. He also served on the Audit Committee, School of Medicine, was chair of the Finance Committee, and in addition chaired the Trusteeship Committee. He also served as one of the chairs of the Yale Tomorrow Campaign. As a volunteer he has been a contributor to the Yale community of his time and energy. His gift of leadership has benefited Yale in many ways.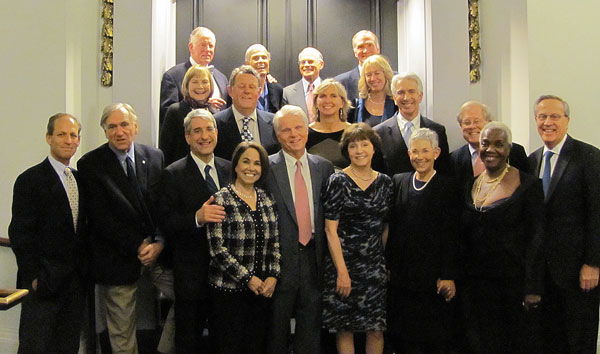 Len and Mary Anne with the class of 1964 entourage,
along with Rick and Jane Levin and Marta Moret and Peter Salovey