Class News
Peter Conrad '64 critiques the colleges
Peter's letter below was published in the January/February 2018 issue of the Yale Alumni Magazine.
---
Critiquing the colleges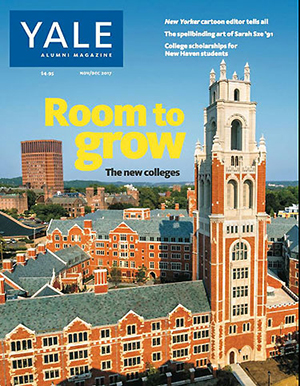 When Yale's collegiate gothic buildings were constructed during the early decades of the last century, they represented an attempt to invoke something that was perhaps never truly a part of American university life, and to tie Yale to a decidedly British model, both visually and culturally. James Gamble Rogers's Branford and Saybrook Colleges are the best examples at Yale, perhaps even in this country.
But even then, as the modern movement grew in architecture, the eclecticism of such buildings began to be viewed as an architectural dead end. The new colleges at Yale ("The New College Try," November/ December) look back to an architecture that was itself looking backward. The result is certainly unsatisfying architecturally.
If you walk down Chapel Street from quirky Street Hall past the Old Art Gallery and its assertively modern addition by Louis Kahn, to Paul Rudolph's Art and Architecture Building and its addition by Gwathmey Siegel, you can see how Yale once undertook to move out of the nineteenth century into the modern world architecturally.
Eero Saarinen, in his design for Yale's previous pair of new colleges, Stiles and Morse, dealt with the same sort of issues that Robert Stern had before him with Murray and Franklin. While some might not consider all of Saarinen's ideas successful, the design reaches out from Yale's traditions into new building technology and function in an adventurous way that Stern's design does not.
To me, in every photograph, the new buildings appear clunky, ill-proportioned, and anachronistic, with none of the graceful loveliness of Branford and Saybrook. I must hope that today's students will make something interesting and exciting of their experience with these buildings, because they are certainly here to stay.
Peter Conrad '64, '68 MArch
Kensington, CA