Class News
Golf Outing, Fall 2013
Our annual Class of 1964 fall golf outing transpired on Friday, October 25, 2013 at the beautiful and renowned Yale Golf Course, voted #1 college golf course in America and ranked #45 of the top 100 classical golf courses in America.

The weather was, as always, picture-perfect. That is to say, a picture is always taken of the weather during the Class golf outing, and the picture is always perfect. Here's the picture.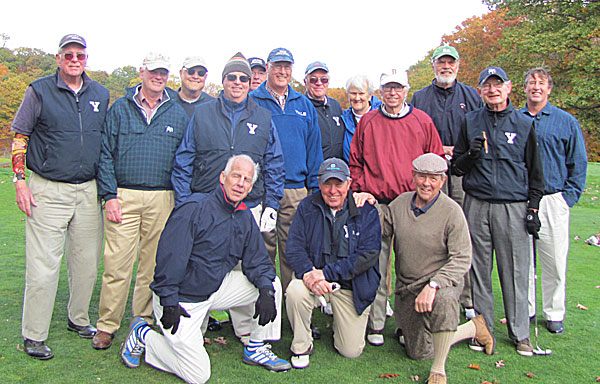 Kneeling: Jay Huffard, Pete Truebner, Alan McFarland; Standing: Chris Getman, Sam Francis, Jim Baxter, John Evans, Randy Schultz, Ted Jones, Ward Wickwire, Tracy Wickwire, Dave Lindsay, Bill Galvin, Neil Hoffmann, Tim Nolan
The following account of the outing was provided by Chris Getman, a long-standing (indeed, chronic) participant in this event, and our favorite chronicler (which is to say, our only chronicler). Mr. Getman's scoring system is byzantine, but nobody seems to care because by the time he's warmed up his abacus, the other golfers are long gone.
---
TRACY WICKWIRE SHAMES THE GOLFERS OF 1964
The weather broke crisp and clear with a brisk wind that was in one's face on every hole.
Assembled in Widdy's were John Evans, Sam Francis, Alan McFarland, Jay Huffard, Tim Nolan, Ted Jones, Peter Truebner, Neil Hoffmann, his friend Randy Schultz, Ward and Tracy Wickwire, Dave Lindsay, and yours truly.  Jim Baxter, true to form, was late and needed to eat his sandwich in his cart.  Also true to form, Bill Galvin showed up five minutes before tee time.  Bill Hildebrand '63, winner of the Mallory Cup for the best athlete in his class, was supposed to round out the group to four foursomes, but he had to back out complaining of car trouble, not having noticed that Evans, in extreme fear of what someone with Hildy's athletic prowess might add to Getman's foursome, had slipped four Ex-Lax tablets into his chili.  "My car's not running, but I am," was the message Hildy left at the desk.
A vote was taken as to whether or not to allow Hoffmann to continue as chairman of the event, given the fact that under his leadership we've had four consecutive nice days in a row.  "I came all the way from Chicago for this," griped Jones. "Let's hire someone who can produce some really nasty weather."  Hoffmann was placed on probation, but the group did applaud him for his great organizational talent and his relentless pursuit of foursomes.
Tony "Ug" Lee was noticeably absent.  Hoffmann announced that Lee had begged off because "he had to do something with his wife."  "He should have dragged her along," said Wickwire, who had done exactly that.  Tracy proceeded to make him look like a genius, something he had heretofore never experienced, by trouncing everyone in her foursome, as well as most of the rest of the field. Tony was assessed a two-stroke penalty to be carried over to the next outing.
McFarland, natty as ever, had engaged the same lawyer as Martha Stewart in the J.C. Penney case to defend him against a lawsuit by Ricky Fowler, who claimed that Alan was trying to wrest the title of "most sartorially splendid" on the tour from him.
Francis, Evans, Huffard, and McFarland announced that they were teamed up 
and announced that they were walking.  This announcement was immediately greeted with a four-shot assessment for "taunting."
Next off was the foursome of Jones, Truebner, Baxter (still munching his sandwich), and Nolan, who proclaimed a 12 handicap and proceeded to fire a 77.
Duly noted, Tim, and reported to FEMA who will undoubtedly need some sandbags for the next disaster. In addition, Tim smoked four cigars, tying the record shared by Baxter and Hoffmann in 2007.
Next off were Hoffmann, Schultz, and the Wickwires.  Schultz, playing to a 15 handicap, started off with two birdies before Hoffmann told him to turn it down. He finished with an 83, having "missed" four six-inch putts.  Hoffmann's record of bringing in sixteen consecutive ringers remained intact.  The surprise of the day, however, was Tracy Wickwire, who despite being frozen to the bone, hung in there with the guys and beat her husband by 12 strokes.
Galvin, Lindsay, and Getman were the last to go off, minus the afflicted Hildebrand. Everyone contributed, with Galvin posting his usual 85, Lindsay a 105, which included two nines and a ten, and Getman — feeling the ravages of age and unable to hit a ball far enough to lose it — shot a 102.
Huffard said he had to go to a board meeting of Vineyard Vines and couldn't stay for dinner at Mory's.  Truebner, announcing that Joe DiMaggio's 56-game hitting streak was the most unassailable record in history, said he was going to try to break it with 57 consecutive post-match dinners missed.  Although it didn't matter, each team was penalized two strokes.
The format was to combine the two best balls net.  The Huffard, Evans, Francis, and McFarland group boasted a 140, Jones, Nolan, Truebner, and Baxter notched a 146, the Hoffmann, Schultz, and Wickwires group came in at 125, and Galvin, Lindsay, and Getman recorded a 134.  It was an easy argument to suggest that Hildebrand, the best athlete in the class of '63, would have contributed at least ten points to the team had he not been victimized by Evans.
That ruling was under review when Nancy Hoffmann showed up, giving the team a decided advantage on the 19th hole.  So, despite the fact that the Galvin squad's score was adjusted to 124, and Hoffmann was assessed the automatic two-stroke "sandbag" penalty he receives every year, the solid performance, enhanced by two members of the fairer sex, at Mory's, added four points and produced the closest upset in tournament history: N and N Hoffmann, Schultz, T and W. Wickwire 123, Galvin, Lindsay, Getman and (Hildebrand) 124
It was unanimously decided to have another event in the Spring, perhaps in late April, in addition to the reunion outing on May 28th.  Stay tuned.