Class News
Golf Outing, Spring 2013
Our annual Class of 1964 spring golf outing transpired on Friday, May 17, 2013 at the beautiful and renowned Yale Golf Course, voted #1 college golf course in America and ranked #45 of the top 100 classical golf courses in America.

The weather was, as always, picture-perfect. That is to say, a picture is always taken of the weather during the Class golf outing, and the picture is always perfect.
The following account of the outing was provided by Chris Getman, a long-standing (indeed, chronic) participant in this event, and our favorite chronicler (which is to say, our only chronicler). As always, in view of our implicit trust in Mr. Getman's memory and honesty, fact-checking has been waived.

---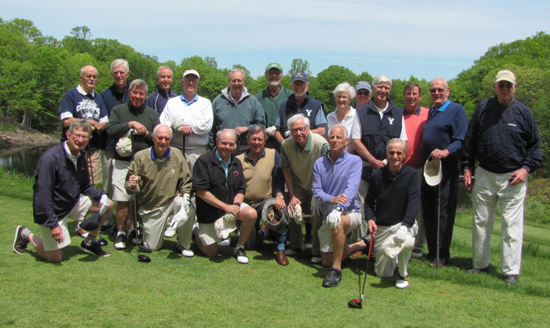 Kneeling (l-r) Hoffmann, Crabtree, Capodilupo, McFarland, Lindsay, Huffard, McAlenney
Back row (l-r) Lee, Heyworth, Truebner, Thompson, Chester, Galvin, Edwards,
T. Wickwire, W. Wickwire, Kalayjian, Nolan, Pierson, Getman
---
EGREGIOUS GALVIN AND EVANS ERRORS PROVE COSTLY
Twenty-one players showed up on a balmy, sunny day.  We gathered in Widdy's restaurant to begin the usual negotiating and prevaricating about handicaps.  Given the fact that the top people from the FBI had issues with Congress, the usual background checks did not occur and therefore handicaps were suspect. However, certain surveillance measures were surreptitiously applied.
Tony Lee, who upon hearing that Putzel was not going to attend and recognizing the subsequent negative impact on the wind, decided to roller-blade down from Boston instead of employing his usual windsurfer.  "I made it in three hours and forty minutes," he stated , "but I forgot my E-Z Pass and got backed up at Sturbridge. Otherwise I'd have done a three twenty-five."
There were many complaints about the weather. "I'm really growing sick of this," groused Jim Thompson. "It took me forty minutes to find and dust off my foul-weather gear and then I arrive to this?"
"Yeah," chimed in Don Edwards, "something's got to change here. Our reputation is at stake. What's with this nice-weather crap!"
We had four guests.  Dave Kalayjian brought Drew Pierson, Wake Forest '65, the scion of a golfing family. Chris Getman brought Tim Nolan, Richmond '77, who was sporting a severely impaired wrist and whose company had rebuilt Mory's. And Ward Wickwire brought his wife, Tracy, a great player in her own right. Of course there was the erstwhile Bob Chester, recently turned 80 and freshly returned from a stint in North Dakota keeping the Red River at bay.
McFarland showed up in his Ricky Fowler costume and was quietly asked to leave the premises and eat his sandwich in the car. "Outrageous," Dave Lindsay was heard to mumble.
We divided into teams and ended up with four foursomes and a fivesome before heading for the first tee and the obligatory wide-angle photo taken by starter Ray Peck.
By then Evans had already made his first mistake by offering to put the entire lunch tab on his member number.  This offer was an invitation to be stiffed for $10 per person, and resulted in the Rules Committee assessing a two-stroke penalty to his team for "flagrant boneheadedness." Those of you who stiffed him can send $10 to 1 Reservoir Road, Newtown CT 06470-1524.
The team of Truebner, Thompson, Capodilupo and Lee led off. After waiting for fifteen minutes for Truebner to hit his third shot, the next group of Huffard, Evans, Crabtree and Galvin decided to "hit into them" which Galvin did, incurring a three-stroke penalty from the Rules Committee.
Next came the fivesome of Kalayjian, Pierson, Nolan, Getman and McFarland, sporting handicaps — audited and confirmed by FBI agents — of 17, 3, 24, 24, and 17 respectively.  They started with a net two off of a four by Nolan, who used only three clubs — a rescue, a wedge, and a putter — the entire day. Admittedly, some eyebrows were raised.
Following the fivesome were Hoffmann, Chester, Edwards and Lindsay, who blamed his arriving late on being denied 501(c)(4) status for his organization "Party Animal," which he claimed was misunderstood for "Tea Party' by the IRS.  Once the smoke had cleared from Hoffmann and Chester's stogies, the final foursome of Wickwires, Heyworth and McAlenney coughed their way up the first fairway.
The course had recently been aerated — both fairways and greens — and this had a major impact on finesse players like Huffard and Heyworth who combined for a total of 24 3-put greens.  Had the conditions not been so tough (the course will be in great shape for the fall outing), it's conceivable that Chester might have shot his age.  He posted an 85, despite jet lag coming back from the Midwest and the yips he endured by having three cups of coffee in order to stay awake while driving three hours with Hoffmann who shot an 81. The other two players in their group, Edwards and Lindsay, played to their handicaps and the team closed with a 62.
The Truebner/Capodilupo/Thompson/Lee foursome came in at 67 which included an eagle by Truebner on 17, thanks to Lee's traditional 40-foot gimme. The FBI monitor in their cart revealed that Lee offered only four other 40-footers, a new tournament low for him.
The Wickwires/Heyworth/McAlenney foursome played well but unfortunately failed to turn in a full scorecard.  Heyworth had to depart immediately for Greenwich to pick up his eight-year-old granddaughter at her violin lesson and take her roller-derby class which ended just before her bridge lesson.  McAlenney had to get back to Simsbury to mow his lawn and let out the dog, so their scores went unregistered, although the Wickwires confirmed that they both played well.
The fivesome did well.  Pierson, using vintage Harry Vardon persimmon clubs, consistently hooked the ball and had a difficult time negotiating the Bronx-playground-condition green, but despite this it was clear that he had a few rounds under his belt.   Kalayjian, master of the groaner joke, shot a solid 93, McFarland, fully recovered from a severe bout of Lyme's disease and electronically enhanced, shot a solid 86 and passed the post-match doping test with flying colors. It was the one-armed Nolan who caught people's attention. Claiming a 24 handicap because of his injury, Tim shot an 84 with an eagle and four birdies, miraculously using only three clubs. More later.  The fivesome posted a solid 60 with everyone contributing.
The Evans/Galvin/Huffard/Crabtree group, reeling from the "bonehead" and "hitting into" penalties, felt they were still in the hunt. Inspired by a Crabtree eagle on 16, Galvin proceeded to launch a great drive on 17.  However, the "eye in the sky" (aka the Goodyear blimp which traditionally covers the event) noticed that since he had won the hole, Crabtree should have teed off first.  This is a serious violation of golf etiquette, equivalent to batting out of order in baseball, punishable by a two-stroke penalty.  This dropped the Evans/Galvin/Huffard/ Crabtree group five strokes above their posted score of 59, but there's more.
As we all know, the 19th hole is regarded as the most important hole of the tournament. The fivesome not only showed up in full force, but drafted Toddie Getman, a serious player, to take up any slack which might be needed to ensure victory. Huffard begged off, noting that he had to go to a black-tie barbeque in Greenwich, but Galvin, usually a stalwart who adds points to his team's score, was also absent, noting that he had to go to a committee meeting in Greenwich with the other 233 important administrators who run the town.  That resulted in a 4-stroke penalty, placing the Evans/Huffard/Galvin/Crabtree team at 68 and in last place. Full disclosure: Evans and Crabtree tried to maintain some momentum for their team by buying dog bowls from Mory's which stated "Mory's, Proudly Serving Bulldogs Since 1849," but to no avail.
So, the final standings were:
McFarland, Kalayjian, Pierson, Nolan, Getman: 60
Hoffmann, Chester, Edwards, Lindsay: 62
Wickwires, Heyworth, McAlenney: 66 (based on testimony from Wickwire)
Truebner, Capodilupo, Thompson, Lee: 66 (they posted a 67 but were awarded a stroke for bringing the lovely Jan Capodilupo, Head of the Wolf, to dinner)
Huffard, Galvin,  Evans, Crabtree: 68 (and lucky to get that)
I must say that this is becoming rather boring for yours truly.
Truebner also missed the 19th hole for the eighteenth time in a row, placing him in the elite company of Jack Nicklaus with another important golf record.
Three things happened during the banquet that were worth noting.
First, an agent from FEMA arrived looking for Tim Nolan. He noted that a dam had burst in eastern Oklahoma and there was a dire need for sandbags to stem the flow.  When Nolan balked, the agent presented him with a subpoena and removed him from the premises.
Second, a telegram arrived from The Benevolent Brotherhood of Brothel Owners of Nevada addressed to Pierson.  It said:" Mr. Pierson, we are in short supply of hookers here in Nevada and will offer you top dollar. Please respond ASAP."
Finally, two masked men arrived and placed Hoffmann in handcuffs, dragging him out of the room. "This is the third year in a row we've had nice weather for the event," they stated.  "It's time for a change.  Let's bring back Lee who will guarantee crappy weather."
The Committee will vote on the motion.
That said, the meeting was adjourned.
---
Postscript by the chronicler:
I forgot to mention that Truebner' s reason for bolting after the golf was because, to quote him, "I need to mail a letter." When it was pointed out to him that there was a mailbox at the end of the street, he added, "Yes, but my letter is official and needs a Darien postmark. I don't want anyone to know that I was playing hooky." Fair enough, but he's still tied with Nicklaus.
On another natter, I have already sent my check for $30 payable to Mory's Preservation Inc. as my gift to the In Memorium Fund. It would have been $100 had I not had the eagle-eyed Tim Nolan in my fivesome. Crabtree gave me $10 as his gift, and I pointed out to him that the $10 per lost ball was for the entire 18 holes, not just the first.
I would encourage those of you who have not ponied up to go to our Class website and check out the "Mory's brick" section of the In Memorium tab. It's quite impressive. Sam Francis has done a great job in keeping it up to date, but sadly we are falling behind our goal to honor every deceased classmate by the reunion. Not having Putzel in the group created a serious setback.
Please help.