Class News
Golf Outing, Fall 2015
Our annual Class of 1964 fall golf outing transpired on Thursday, October 15, 2015 at the beautiful and renowned Yale Golf Course.
The photo at right is from the tee at the dreaded par 3 ninth hole, 190 yards over water to an impossible green. This hole has been ranked among the 100 most difficult holes in the United States.
In 1988, Golf Magazine ranked Yale as the 71st most difficult course in the world. Golfweek ranked Yale at #35 on its 2013 list of best classic courses. In 2011, Golf Magazine ranked the course #71 of the top 100 courses in the United States. In 2010, Golfweek named it the best campus course in the United States.
The following account of the outing was provided, as usual, by our faithful reporter Chris Getman '64, with his customary flair. The report has been certified by Fact Checker.
---
Minutes of the 1964 Golf Outing October 15, 2015
Galvin tries to sneak out a win
Given the forecast of severe thunderstorms and a possible tornado watch, the Class of 1964 Golf Outing on October 15, 1964 drew a record 30-golfer turnout.
When the skies blew crisp and clear, event chairman Neil Hoffmann, looking at the disappointment on the faces of those who showed up, was put on a suicide watch.
After the usual bitching about the beautiful weather, five foursomes and two fivesomes teed off after the group photo.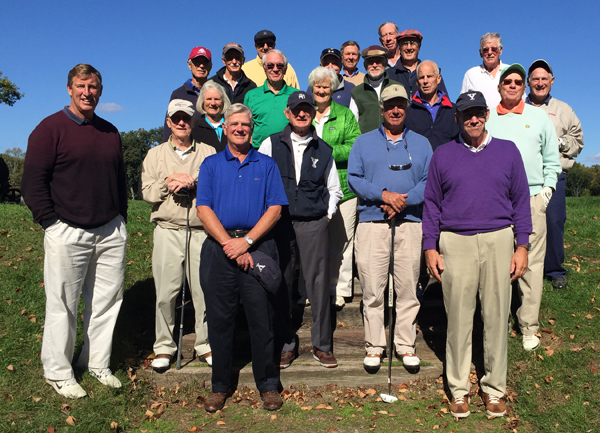 The format was best two balls per foursome, net, with a mulligan on each side other than on the green. There was a $10 contribution per lost ball to the Mory's Putzel Class of 1964 Mausoleum Fund, and no reward for finding others' balls. For those who skipped out, the ante went up to $25 per ball at the next outing.
The first foursome of Lee, Francis, and the two Dons (Crabtree and Edwards), hoping that a reference to the Mafia might intimidate others, was immediately assessed two strokes for "taunting" because Lee and Francis decided to walk.  It didn't matter, because despite the outrageous handicaps they proclaimed, they sucked  and came in with a 128 net.  They did win some consideration by having their entire team show up at Mory's, and having Don E's wife Sally join us, but it wasn't nearly enough.
The second foursome consisted of Jones, Elliott, Trippe, and Putzel.  Jones needed to get special permission to be relieved from the front window at Macy's on 34th St. posing as Santa Claus in his golf outfit, which was granted. He received the award for travelling the longest way to make the event, for the fourth time in a row.  McFarland, when he saw Jones show up and realizing that yet again  he'd lose the "plus-four couture-off," went into a deep funk and ordered a Tequila Sunrise for lunch.
Following the Jones foursome was the Wickwire/Crocker foursome which was immediately penalized two strokes for "distraction."  It is a long-held rule of the 1964 Golf Outing that having attractive women participate is a distraction for the rest of the group. That said, we encourage spouses/significant others to participate while understanding the impact they might have on their foursome.
Next up were the chagrined Hoffmann and Chester, who was on his fourth cigar and just back from flood-ravaged South Carolina where sandbags were desperately needed. Bill Galvin and Dave Staebler, Director of Rules Education for the USGA and a consistent addition to the string of ringers Neil imposes on the rest of us, rounded out the foursome. Lindsay was heard to remark when Staebler's credentials were explained, "why the hell would anyone who understands the rules of the game want to be part of this group?"
 Contrary to his usual routine, Galvin seemed anxious to tee off early, and did not, as is his usual custom, arrive just in time to be put with the last foursome. This head scratcher will be explained later. They finished with a net 127.
Up next was the fivesome of Howell, Huffard, McFarland, Lindsay, and Getman.  McFarland, still reeling from his second consecutive runway loss to Jones, promptly lost two balls by the third hole, and went downhill from there. There was discussion of adding a turret to the McFarland wing at the Putzel Mausoleum, but Farley rallied and shot a crisp 90, down five balls. The fivesome played well as a team with everyone contributing as they cruised to a net 54 on the front nine, highlighted by a net four on 8 (Howell 3-net-2, Getman 4-net-2), and a net 65 on the back, for reasons to be explained later, for a net 119. Lindsay, who uses a 7 wood from the tee, also contributed nicely with pars on 5, 6, 7, and 17.
Norman, Padley, Capodilupo, Post, and Baxter followed. Larry sent me a roundup noting that he birdied 1, Norman birdied 2, Post birdied 3, and Baxter had a net eagle 1 on 5.  And so on.  What Larry neglected to mention was that the second best ball on each of the aforementioned holes was 8, 7, 6, and 9 respectively, and an audit of the scorecard showed Baxter getting a four on 5 with a 32 handicap (the max allowed) for what should have been a net 3.  That said, the fivesome came in at 122, close but (unlike Hoffmann, Nolan, and Chester) no cigar.
The last foursome, Nolan, Wilson, Evans, and Kalayjian almost missed the start.  They were rehearsing as a barbershop quartet, hoping that they might be able to sing their way to victory at Mory's later in the evening.
Some highlights worth mentioning in addition to Capodilupo' s exaggerations occurred on nine where Putzel, ecstatic about a net double bogey on eight, decided to strut his stuff on nine, eschewing the usual driver for a three wood, which he promptly deposited in the pond. "That was a 'Princess Grace'," noted Jones. "Should have used a driver." Elliott, taking note of Putzel's plight, used his driver to put one on the upper half of the green, from which he five putted. Call that one a "Princess Diana," remarked Jones. "Shouldn't have used a driver."
Also when Baxter and Padley went to relieve themselves on the 6th, two holes later than usual, Norman was heard to remark in his laconic drawl, "There they go, shaking hands with the unemployed."
The foursome of the Wickwires and the Crockers had a very pleasant round, after Tracy was required to play from the forward tees rather than the blues. There was no report of lost balls or a scorecard from either team, but it is suspected that the Crockers missed the dinner at Mory's anxious about needing to add the Crocker pool to the Putzel mausoleum and McFarland wing (and possible turret) in the courtyard. This transgression will be dealt with at subsequent outings.
Having both Ward and Tracy show up for dinner at Mory's did not compensate for Sam and Ann's absence, and even though they didn't post a score, both couples will be assessed $25 per lost ball at the next outing.
The next group to hit the grill room at the ninth was the  Hoffmann, Ringers, and Galvin foursome. Knowing he was well behind, Galvin, who as mentioned before had uncharacteristically arrived early, announced to the attendant at the ninth rest stop that he still had $80 in credit remaining on his membership at Yale which needed to be used by the end of the season. "Tell anyone who follows that their food/drink is on me," Bill said magnanimously. Surreptitiously he slipped the attendant $50 and asked him to slip some "stealth" Ex-Lax into the orders of the remaining foursome and fivesomes.
Strange things began to happen. I'm going to get that bastard," growled Nolan.  "He beat me for low gross at the last outing. Please give me three cheeseburgers with extra catchup." Kalayjian, Evans, and Wilson also partook of Galvin's magnanimity, as did the two fivesomes. The Howell, Huffard, etc. fivesome began to notice a difference also. Coming off a first nine 54, they slipped to an acceptable 65 on the back, still posting an afternoon best 109. Howell and Trippe, who played ahead of Galvin, were in perfect sync due to Howell's fade caused by a hotdog and a beer, just as they were at Henley last summer, both posting respectable 86es. Suffice it to say, "all hell, and a bunch of other stuff, broke loose starting on about the 11th hole."
Galvin, in the meantime, sat smiling smugly in the clubhouse.
When word of impending disaster began to spread, some crafty traders on the West Coast loaded up on Kimberly-Clark (owner of Scott Paper) on the November 13, 115 calls with which they quadrupled their investment overnight. When they were called for potential insider trading, they simply referred to the video of Post and Padley, blasted by Capodilupo, sprinting into the woods on 14. They were quickly exonerated.
The final quartet of Evans, Kalayjian, Nolan, and Wilson, knowing that there would be a line like the ladies' room at a Grateful Dead concert, decided to hustle down to Phil's barbershop on Wall Street to use the facility. Carl, the proprietor, recognizing a good opportunity, made them sing three stanzas of "Sweet Adeline" before allowing them in.
By the time of the Mory's event, things had settled down. Putzel, Elliott, and the Crockers skipped the event without contributing to the mausoleum fund and will be assessed $25 per lost ball at the next event. Padley had to leave to drive his granddaughter to her mud-wrestling lesson (he too will be assessed $25 at the next outing), and Huffard and Howell, who did pay, also deferred to other obligations. Wilson and Nolan are also confirmed deadbeats. Perhaps we should consider adding a couple of guest rooms to the back of Mory's.
Hoffmann is working hard on finding a date for next May, but will be checking the Farmer's Almanac for predictions of rain. 
You are all encouraged to sign up for the event on the Cape in July. It promises to be a great deal of fun.