Class News
Joe Lieberman '64 receives national leadership award
Here is an article from the website of Kasowitz, Benson, Torres & Friedman LLP, a national law firm primarily focusing on complex commercial litigation.
---
Kasowitz Senior Counsel Sen. Joseph I. Lieberman Receives 2015 Winston Churchill National Leadership Award
December 1, 2015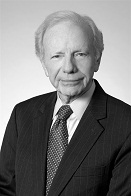 The firm is proud and delighted to congratulate Senior Counsel Senator Joseph I. Lieberman upon his receipt of the prestigious 2015 Winston Churchill National Leadership Award on Tuesday, December 1st at the United States Capitol in Washington, D.C.
Senator Lieberman, who is the first recipient of the award, was honored at a ceremony and dinner reception, followed by toasts and cigars in homage to Winston Churchill. The Winston Churchill National Leadership Award recognizes individuals who best embody the spirit of Winston Churchill through courage, leadership, and bipartisanship in foreign policy.
Speaker of the House of Representatives Paul Ryan presented the award to the Senator at the reception, which was attended by numerous U.S. and U.K. leaders, including House Minority Leader Nancy Pelosi, House Majority Whip Steve Scalise, House Minority Whip Steny Hoyer, Congressman Mac Thornberry, Senator John McCain, Senator Orrin Hatch, and Senator Susan Collins.
Sir Peter Westmacott, the British Ambassador to the United States, accompanied by Lady Westmacott, delivered remarks and read a cable from UK Prime Minister David Cameron in recognition of the occasion and of Senator Lieberman.