Class News
University of Kentucky to archive papers of education advocate Robert Sexton '64
Lexington (KY) Herald-Leader
November 19, 2013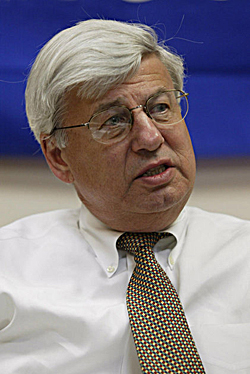 In 1983, a college professor named Robert Sexton took the helm of a small advocacy group aimed at improving Kentucky's schools.
Under Sexton's leadership, the Prichard Committee for Academic Excellence became a nationally known organization that pushed huge changes at every level of education, including the Kentucky Education Reform Act in 1990 and the Kentucky Postsecondary Education Improvement Act seven years later.
The work — papers, studies, briefs, speeches, letters, videos — of Sexton and the Prichard Committee to push those changes will now be open to scholars and future advocates as part of the University of Kentucky Special Collections. On Wednesday, UK President Eli Capilouto and others will speak at an event to accept both sets of papers and celebrate both legacies.
"This is a man who dedicated his whole life to making sure all the kids in the commonwealth got a great education," said Stu Silberman, who became the Prichard executive director after Sexton's death in 2010. "There were a lot of blood, sweat and tears that we want to make sure are never lost."
Terry Birdwhistell, dean of UK Libraries, said UK has always been interested in all levels of education, and in archiving collections that document public policy in the state.
"This is one of the best examples nationally of something that combines those two research interests," Birdwhistell said. "Public policy experts and scholars over time will find these collections extremely valuable in trying to track progressive education in the last part of the 20th century and the first part of the 21st century."
The Prichard Committee collection will grow over time, because the group will continue donating its papers.
"This fits in with what we're trying to do in special collections, and we're so pleased they chose the University of Kentucky to do this for them," Birdwhistell said.
Deirdre Scaggs, associate dean of Special Collections, said the two collections will start out with between 150 and 200 large boxes of materials. The Sexton papers will be available this spring, but the Prichard papers need to be organized and archived.
In addition to being the state's premier education policy expert, Sexton helped found the Kentucky Governor's Scholars Program, the Kentucky Center for Public Issues, the Commonwealth Institute for Teachers and the Commonwealth Institute for Parent Leadership, a group that helps parents become more active in education. He was founder and president of the Kentucky Center for Public Issues, and he chaired the Carnegie Center for Literacy and Learning in Lexington. He authored the 2004 book Mobilizing Citizens for Better Schools.
Wednesday's dedication of the papers will be followed Thursday with a Prichard Committee meeting on a topic that Sexton never stopped advocating for: adequate funding for Kentucky's schools.
"We're going to be shining a light on our current funding conditions for our schools, and trying to mobilize people to get some new revenue in this state," Silberman said. "Bob would be very much involved in the push for adequate funding for our schools."