Class News
Squash Haven reports great results
Squash Haven is a Yale-affiliated organization — supported by the Class of 1964 — that promotes squash participation and college aspirations among inner-city youth in New Haven.  Here is their holiday newsletter, dated December 18, 2015.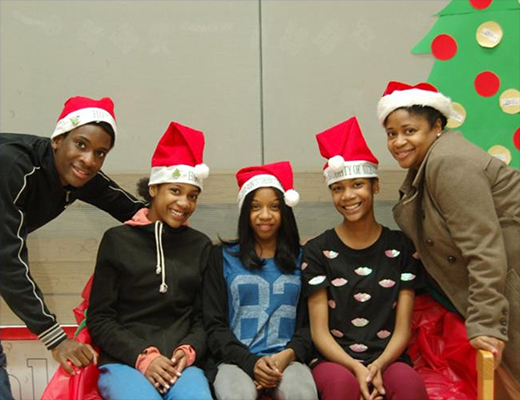 Team members Terrace, Taniya, their mother, and siblings
celebrate at our annual Holiday Party!
Dear Squash Haven Friends,
This week began on a high note, as sixteen new 5th- and 6th-grade team members were selected from a pool of eighty that began trying out in October. Selection calls home included yelps of joy and some loud exclamations of "Yessss!," which we imagine also included some fist pumps. The team's Student Leadership Council will host a welcome party for the newbies this afternoon, where they will hear about older teammates' experiences, play games, and receive their first T-shirts.
Additional high notes played shortly thereafter, as we received our first college news of the season. A teary seven-year team member Elaine Negron stormed the office to share that she was accepted to her first choice, Gettysburg College. Hours later, eighth-year team member Michael Rodriguez called from Pomfret, where he is doing a postgraduate year, to let us know that he had been accepted early-decision to Connecticut College. Both will be the first in their families to attend college.
Every day here at Yale as well as in prep schools and colleges across the country, Elaine, Michael, and their 120 teammates are making important strides towards their educational and life dreams. Students are building academic and social-emotional skills that are requisite for higher-level academic and career success. They are developing a sense of purpose, identity, and belonging through team activities and in close relationships with staff and teammates. Above all, they are realizing that, over time, daily hard work and commitment can transform lives, including their own.
Thank you for your belief in our mission and in the promise of each and every Squash Haven team member.
Happy Holidays from Elaine, Michael, this year's newbies, and ALL of us!
With gratitude,
Julie Greenwood
Executive Director