Class News
Whiffenpoofs '64 album digitized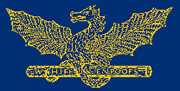 Listen to our Whiffenpoofs of 1964 as recorded back in the day and digitized in 2011 from their original vinyl LP (see the album cover below). It's not high fidelity, but it's nostalgic. The gentleman songsters are identified below. Scroll down to the audio player and listen to the songs, thanks to Sam Francis '64 who provided the 47-year-old album.The album-cover painting is by Betsy Park, wife of Jamie "Handy Six" Park.
The 1964 Whiffenpoofs
Nick "Chicken in the" Baskey
Steve "Annie O' " Clay
John "Odds Or" Evans
Don "Zig Z' " Haggerty
Keith "Creamp" Huffman
Jon "Will Ya Be" McBride
Jack "The Wizard of" Ostrich
Jamie "Handy Six" Park
Al "Pitchpipe" Rossiter
Jim "Hamburger Spe" Schulz
Gerry "Popocatepetl" Shea
Roger "Abomic" Thompson
Buck "Jet Prop" Wilson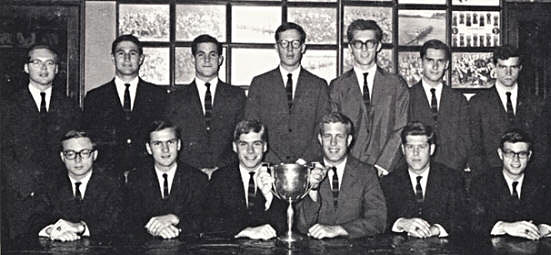 Standing (from left): Thompson, Wilson, Haggerty, Huffman, Schulz, Ostrich, Clay
Seated (from left): Baskey, Park, Shea, Rossiter, McBride, Evans
Click the "play" button to play the highlighted song. The succeeding songs will play automatically in succession. To download audio files for all the songs, click here.
Update Required
To play the media you will need to either update your browser to a recent version or update your
Flash plugin
.
---
Also
listen to the 1963 Whiffs
, thanks to Gerry Shea '64 who provided their album from his LP record collection.