In Memoriam
Ward Cates
Ward Cates died on March 17, 2016.
His memorial service in Chapel Hill NC on April 9, 2016 was attended by classmates Terry Holcombe, Jim Kearney, Bill Manuel, Jim Duderstadt, Steve Feinstein, and John Howells.  Ward's many contributions in the field of public health were celebrated by representatives from the Centers for Disease Control, Duke University, University of North Carolina, and FHI 360, as well as from Yale.
Prior to his death, the Class Council of the Class of 1964 passed a resolution of appreciation honoring his leadership and commitment to Yale and to the Class of 1964. See the resolution here.
Below are three articles which honor and remember him.
---
Obituary, Dr. Willard Cates, Jr.
The News & Observer (Raleigh, NC)
March 19, 2016
The world has lost one of its champions of public health and a pioneer researcher in the fields of HIV/AIDS and women's reproductive health as Dr. Willard Cates, Jr. 73, passed away peacefully on March 17, 2016, surrounded by his loving family.
A husband, father, grandfather, educator, and mentor to many in the field of family health, Ward was preceded in death by his father, Willard Cates, his mother, Dorothy Sands Cates, and his sister, Margot Cates Kagen. He is survived by his wife and the love of his life, Joan Roberts Cates; two daughters, Deborah Cates Knighton (Tim) and Sarah Cates Parker (Andy); and four grandchildren, Charles Watts Knighton, Henry Sands Knighton, Katherine Elizabeth Parker, and Addison Margaret Parker.
Ward was born in Cleveland, Ohio on November 16, 1942 and grew up in Rye, New York. He graduated from Rye High School in 1960 and Yale University in 1964 with a Bachelor's degree in History. After graduation, Ward traveled to England to further his studies during a fellowship at King's College at Cambridge University.
While in England, Ward experienced two unexpected events that shaped the trajectory of his life. First, he met his future wife, Joan, and pursued her throughout the capital cities of Europe. And secondly, Ward was injured during a rugby game, which subsequently sparked his interest and lifetime passion in medicine and public health. Shortly thereafter, Ward returned to Yale University where he was the first to complete a combined M.D./Masters in Public Health degree in 1971. After a stint in the United States Army where Ward achieved the rank of captain, he began a two-year fellowship with the Centers for Disease Control and Prevention (CDC) in the Epidemic Intelligence Service, a fellowship that helped to launch his long and storied career in reproductive and public health.
Ward began his fellowship shortly after the Roe v. Wade Supreme Court decision and became engrossed in the field of women's reproductive health. He served as the first permanent Chief of the Abortion Surveillance Branch at the CDC where he quickly emerged as the world's leading abortion epidemiologist. After nine years in the Family Planning Evaluation Division of the Abortion Surveillance Branch, Ward became the Director of the Division of Sexually Transmitted Diseases at CDC, a position Ward took at the dawn of the HIV epidemic in the United States. Working on the Kaposi Sarcoma/Opportunistic Infections Task Force proved challenging yet rewarding for Ward who became an HIV/AIDS expert. This experience helped to shift his career path as he became interested in the international epidemic.
In 1994, Ward was recruited to work as a researcher at Family Health International (now FHI 360), a leading global development organization. Ward was the President/CEO of its Institute for Family Health and was serving as the President Emeritus of Research at the time of his death. During his time at FHI 360, Ward worked as principal investigator on many microbicide trials including the CAPRISA 004 trial of 1% tenofovir gel, a trial which showed a 39% reduction in HIV acquisition among women using the gel. From 1997-2002, Ward was a scientific investigator for the HIV Prevention Trials Network and was a principal investigator for the Microbicide Trials Network. He was a member of the Institute of Medicine.
A renowned leader and mentor, Ward has inspired two generations of leading scientists, public-health officials, and clinical practitioners, and provided much guidance for those in the fields of family planning, STD/HIV prevention, and epidemiology. Perhaps the best documentation of his leadership is his co-authorship of eight editions of Contraceptive Technology, widely regarded as the standard textbook in family planning. Ward was also a regular speaker at the twice-yearly Contraceptive Technology conferences and he co-edited two supplements on family planning and HIV for the journal AIDS.
As accomplished as he has been in his professional life, Ward found his greatest joy from his family. Known as Bompa by his grandchildren, he loved hearing about and following the interests of his children and grandchildren. Whether on the sidelines watching his family excel on the fields or on the comfort of his couch while following Duke basketball, the L.A. Dodgers, or Red Zone, Ward was always the loudest fan cheering for the things he loved.
A private interment will be held at Hollywood Cemetery in Richmond, Virginia. A celebration of Ward's life will be held later in the spring. In Ward's memory, contributions would be much appreciated to The Guttmacher Institute, 125 Maiden Lane, 7th floor, New York, NY 10038.
---
Cascade Helps Keep People Coming Back for HIV Treatment
The Huffington Post
by Ward Cates
November 27, 2012
Last year, we celebrated 30 years of progress in the fight against AIDS. This year, let's celebrate World AIDS Day by looking forward. We've challenged ourselves by setting an ambitious goal of an AIDS-free generation. Let's examine where we are on our way to that goal.
A recent model known as the HIV treatment cascade helps identify the key opportunities to improve services to stop the spread of HIV (see figure below). Getting into the treatment cascade begins with HIV testing, because knowing whether one is infected or not determines the next course of action.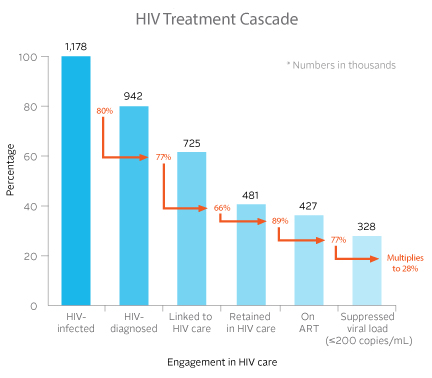 We have evidence that helping people to complete each step in this cascade is crucial both to assuring the individual's health and to achieving the public-health goal of an AIDS-free generation. We can use the cascade model to help gain accurate assessments of the "leakage points" in the HIV care and treatment system. By knowing where in the cascade we need to focus, we can provide additional incentives for patients and resources for providers to improve retention.
At the individual level, this means everyone needs to take the initiative to learn his or her HIV status. At the population level, health systems need to make universal HIV testing the norm. Determining HIV status is the first step to applying prevention and treatment technologies that have maximum public health impact.
If diagnosed with HIV infection, the individual continues down the cascade to referral for HIV care, receiving HIV therapy, adhering to HIV treatment and, finally, lowering the viral load level to immeasurable — essentially non-transmissible — levels.
So what stands in our way? Health-care providers hear all the time that people don't get tested because they think their risk of HIV infection is low. Overburdened health-care facilities sometimes drop the ball in referring people for testing. Creative approaches to overcoming these barriers are being imagined every day — for example, make testing the norm, with opt-out procedures instead of opt-in. The clinical study known as HPTN 065 is using this approach as part of its evaluation of the feasibility of an enhanced community-level test and link to care. Other strategies include offering incentives for being tested, mobile HIV testing outlets with rapid diagnosis, using mass communication to emphasize the importance of early treatment and to encourage people to return for their test results, and utilizing new home HIV test kits.
A person who tests positive must be linked to HIV service-delivery points. More barriers appear at this stage. Because they feel healthy, people don't begin treatment. Even more critical, many fear their HIV status leaves them vulnerable to stigma. New policies and social change are needed to relieve more of this vulnerability. Often, the benefits of early treatment — for both themselves and others — have not been communicated, particularly when it comes to the newer idea of treatment as prevention. Many have questions about starting treatment early and dealing with potential side effects. These are important questions that we need to address.
More creative and sensitive approaches can help overcome some of these barriers: promotion of the benefits of immediate enrollment through digital reminders, hotlines for clients and targeted communications to those who have just been tested. At the facility level, strengthen the links between testing and care centers. Provide performance incentives for achieving referral quotas. Let's encourage those in treatment to remain adherent by sending reminders through mobile phones, delivering care or medicine to their homes, and establishing peer support.
Different countries are using the cascade approach to improve their HIV service delivery among the populations at highest risk. In Zambia for example, where heterosexual transmission is the dominant mode, the rate of transmitting HIV from mother to child dropped more than three-fold when combining HIV testing with administering antiretroviral drugs to both mothers and newborns. In Vietnam, where injecting drug use has driven the epidemic, finding and treating drug users who have HIV has been a focus for the cascade approach.
We've come so far in the battle against this virus. Today, for those who have access to antiretroviral treatment, HIV can be managed as a chronic illness. Better still, with encouraging scientific breakthroughs in HIV prevention tools, fewer people have to go through the trauma of getting that diagnosis at all. In many places, especially in Africa, men are voluntarily receiving medical circumcisions, proven to help reduce transmission of the virus. Others — some with the virus, some without — are taking antiretroviral drugs to prevent HIV spread. Both of these strategies have achieved "proof-of-concept status," meaning there's good scientific evidence that they work. We continue searching for a vaccine to prevent the virus and a cure for those who already have it.
As we pause to reflect on 2012's World AIDS Day, let's resolve to get everyone on board to make the most of the tools we have. We can conquer this disease.
---
FHI 360 mourns the death of Willard (Ward) Cates Jr.
International leader in reproductive health and HIV prevention research
March 18, 2016
DURHAM, NC — FHI 360 is deeply saddened to announce the death of our dear friend and colleague Willard (Ward) Cates Jr., MD, MPH, President Emeritus and Distinguished Scientist of FHI 360.
Dr. Cates, who joined FHI 360 (then FHI) in 1994, passed away on March 17th, 2016 in Chapel Hill, North Carolina.
"The world has lost a true leader and visionary," said Patrick Fine, Chief Executive Officer of FHI 360. Dr. Cates had a distinguished career, spanning more than 40 years in the fields of women's health, prevention of sexually transmitted infections and HIV, contraceptive technology, and reproductive health services. "The health advances for which Ward Cates has been responsible will continue to have a global impact for years to come. He was a man who exemplified the idea that one person can make a world of difference."
At FHI 360, Dr. Cates helped design groundbreaking studies and implement programs on the prevention of both unintended pregnancies and sexually transmitted infections. He also led FHI 360's extensive biomedical HIV prevention research efforts, first with barrier methods and topical agents, and then through the use of oral products.
Before joining FHI 360, Dr. Cates spent two decades at the U.S. Centers for Disease Control and Prevention (CDC), where he helped lead its family planning, STD/HIV and epidemiology training units.
Dr. Cates served on countless distinguished government, academic, and private scientific advisory and review committees. He was a member of the Institute of Medicine and past president of both the Society for Epidemiologic Research and the Association of Reproductive Health Professionals. He served on the executive boards of the American Public Health Association, the American STD Association, and the American College of Preventive Medicine. He was also director of a World Health Organization Collaborating Centre both at CDC and at FHI 360, and chaired the executive committee of the U.S. National Institutes of Health HIV Prevention Trials Network for more than a decade. In addition, he served on the scientific advisory committee for the Office of Global AIDS Coordination, the scientific advisory committee of the Joint United Nations Program on HIV/AIDS, and the advisory council of the University of North Carolina at Chapel Hill's Gillings School of Global Public Health.
A prolific scientist and writer, Dr. Cates authored or co-authored more than 450 scientific publications, including 170 original contributions, and served on the editorial boards of eight scientific journals. "He was passionate about creating, sharing, and using knowledge," said Fine. "His service to the public-health community and to FHI 360 has been remarkable."
Most recently awarded the distinguished 2015 Allan Rosenfield Award for Lifetime Contributions to International Family Planning from The Society of Family Planning, Dr. Cates received many honors during his distinguished career, including the Shultz Award from the American Public Health Association for his research contributing to the health of American women; the EEO Award from the CDC and the U.S. Department of Health and Human Services, respectively, for his contributions to gender and diversity among his staff; the American STD Association's Lifetime Achievement Award; and the Yale School of Public Health's Distinguished Alumnus Award. He was an honorary fellow of the UK Royal College of Obstetricians and Gynaecologists and was awarded an Outstanding Contribution to Science honor by the South African Department of Science and Technology.
"Ward Cates has left a remarkable legacy," said Fine. "His deep passion, boundless energy, and profound commitment to advancing the science that improves lives should serve as an inspiration to us all."
Dr. Cates lived in Chapel Hill, NC, and is survived by his wife, Joan Roberts Cates; two daughters, Deborah Cates Knighton (Tim) and Sarah Cates Parker (Andy); and four grandchildren, Charles Watts Knighton, Henry Sands Knighton, Katherine Elizabeth Parker, and Addison Margaret Parker.
FHI 360 extends its heartfelt sympathies to the Cates family.
---
As mentioned above, Ward received in 2003 the lifetime-achievement award from the American Sexually Transmitted Disease Association. This award, then named the "Thomas Parran Award," was subsequently renamed "The ASTDA Distinguished Career Award." You can read Ward's acceptance speech here.