In Memoriam
Chip Madden
Here follows a note from Chip's father, John C. Madden Sr., followed by an obituary from the Boston Globe and a remembrance by John Howells '64 on the occasion of our Class's 40th Reunion.
---
Note from Chip's father to Tony Lee, our Class Secretary
It is my sad duty to report the death of my son, John Jr., your Yale classmate, on February 20th.
He battled cancer for 3 long years before it won.
I enclose the death notice from the Globe. His two sons are both Yale graduates, one in '94 and one in '98. His daughter-in-law is also a graduate in the Class of '96.
He was employed throughout his working life in the investment field; his last connection was as an analyst and fund manager with Keystone in Boston.
Yours truly,
John C. Madden
---
Obituary
Boston Globe
MADDEN, John C. Jr ― Of Weston, 62, on February 20, 2004. Beloved husband of Bryn (Peters). Loving son of John C. of Wilmot Flat, NH and devoted father of Dr. John C. Ill and his wife Darci of Kirkwood, MO, and Nicholas H. of Boston. Also the dear brother of Marni Eaton and her husband Nick of Wilmot Flat, NH and loving grandfather of John C. IV of Kirkwood, MO. A Memorial Service will be held at the First Parish Church in Weston, 349 Boston Post Rd., Weston MA, at 10:30 AM. Wednesday, February 25th. In lieu of flowers donations may be made in memory of John C. Madden Jr. to Angell Animal Medical Center, Boston, MSPCA, Att: Development Office, 350 South Huntington Ave., Boston MA 02130; or to the charity of your choice.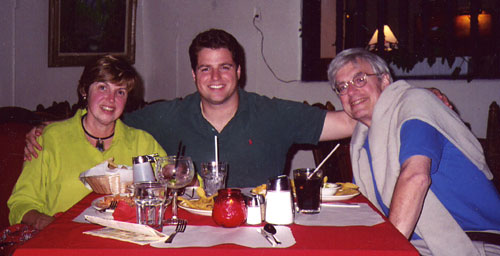 Bryn, Nick, and Chip celebrating their 33rd
wedding anniversary in Albuquerque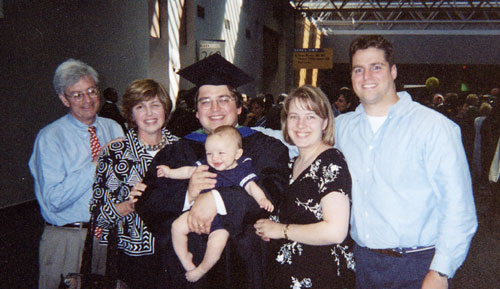 Chip, Bryn, Josh '94, Darcy '96, Nick '98,
and John Crane Madden IV, class of 2022
---
Remembrance
by John Howells
read at our 40th Reunion
June 4, 2004
What to say?

I first met Chip in Pierson. I was a sophomore and Chip a junior. After a Dean recommended sabbatical, Chip returned and we roomed together senior year. We got along well. We were young, bright ― after all, we were Yalies. We always knew just what to say.

Our lives overlapped in New York for a couple of years soon after college. We would meet at the Yale Club or somewhere in the "village." We had great visits. We were young, free, and terribly smart. We knew everything. We knew just what to say.

Over the next few decades we kept contact ― occasional notes, some Christmas cards. Planned happy, but too brief, meetings in airport bars, or hotel lounges, random phone calls. Our talk was of wives, jobs, moves, children, various accomplishments. Everything was great. We had a lot to say. We knew just what to say.

My youngest child, my son, my namesake, entered Boston College about ten years ago. As parents we tried to visit often. Chip had been in the Boston area for many years, and we renewed our relationship as though there had never been any gaps. Our wives, my Pat and his Bryn, got along well. They quickly pointed out all the ways we were wrong, but we ignored those comments. We weren't so young, but we felt successful, and we talked a lot. We knew just what to say about everything.

Then, about three years ago, there was a diagnosis. Stomach cancer. I didn't quite know what to say.

Treatment: surgery, chemo, radiation, seemingly all at once. Gradual improvement. After about a year I asked Chip how he was. "The cancer seems to be gone." "How do you feel?" I'm fine."
Well, there was still some numbness in one leg, and he didn't hear too well out of one ear, and there was pain in his stomach until the pills kicked in, and he couldn't eat much at one time ― and nothing too hot, or too cold, or too spicy, and not too fast. But "I'm fine." I didn't quite know what to say.

Bryn was great about it all, as were Josh and Nick, both Yale grads. Chip was terribly proud of both. Josh and Darcy had a fourth namesake during the last year, which seemed to make everything worthwhile. I bit off my fears and questions. I figured out what to say.

Then it was back. Tests and scans. Nothing to be done. No one knew what to say.

A visit or two, my son lives in Boston, phone calls every so often. With me, Chip was blunt and frank. I really didn't know what to say.

There were phone calls with Bryn when Chip couldn't come to the phone. We wanted to talk a lot, we wanted to say a lot. We ended up talking about dogs and children. We didn't know what to say.

There was a weekend visit with two small dogs. Puppies always know what to say.

Now the race is run. I am sorry for Chip. I am sorry for his pain and loneliness. I am sorry for Bryn and Josh and Darcy and little Jack and Nick. I am sorry for me.
I still don't quite know what to say.