In Memoriam
Nate Marinuzzi
Nate Marinuzzi died on October 16, 1989. Below are five remembrances. The biography and remembrances are from Yale AIDS Memorial Project (YAMP), described in the final item below. Nate was one of eight AIDS victims initially memorialized by YAMP.
---
Obituary
NEW BRITAIN — A memorial Mass will be celebrated Friday at 10 a.m. for Nathan Anthony Marinuzzi, 47, of 160 Brittany Farms Road, who died Monday, Oct. 16, 1989, at the John Dempsey Hospital, University of Connecticut Health Center, Farmington, after a brief illness.
The Mass will be in St. Monica's Church, Middletown Avenue, Northford section of North Branford. The Newkirk and Whitney Funeral Home, 776 Farmington Ave., West Hartford, is in charge of arrangements.
Mr. Marinuzzi, son of Nathan P. and Mary Sewe Marinuzzi of North Branford, was born in New Haven, Oct. 7, 1942, and lived in New Britain for 10 years. He was a former resident of North Branford and New Haven.
He was a senior financial analyst for United Technologies / Otis Elevator Co., where he worked for 10 years. He was a 1964 graduate of Yale University and a 1966 graduate of the University of Michigan School of Business.
Besides his parents, he leaves a daughter, Kim L. Marinuzzi of San Diego, Calif.; a son, Jeffrey J. Marinuzzi, stationed with the U.S. Army in Anchorage, Alaska; and two brothers, John and Robert Marinuzzi, both of North Branford.
Memorial contributions may be made to the Nathan A. Marinuzzi Scholarship Fund, care of the Yale Alumni Fund, P.O. Box 308, New Haven, 06508.
---
Biography
Published by the Yale AIDS Memorial Project
Nathan Anthony Marinuzzi died three months after his 25th Yale reunion. In the years between his graduation and death, Nate started a family, attended graduate school in Michigan, and worked at large accounting firms in New York and San Francisco before settling in Hartford in 1983.

Nate was born in 1942 in Northford, Connecticut to working-class parents. The eldest of three boys, he graduated from Wilbur Cross High School and then enrolled at Yale, where he lived in Bingham Hall as a freshman before moving on to Calhoun.

In the summer of 1964, immediately after receiving his BA in Economics, Nate married Eleanor Hugo, a librarian at Sterling Memorial Library whom he had dated as an undergraduate. Together, they rented a garden apartment across the Hudson in North Plainfield, New Jersey, where they entertained visiting friends from Yale with their pool and patio.

According to friends, it was in those first years in New York that Nate fully realized he was gay. Though the family stayed together until 1970, he and Eleanor eventually divorced. Nate moved in first with a Yale classmate and then a lover in Manhattan. Eleanor decamped to Connecticut with the kids. 

In 1972, Nate met Harrison Cromer, who would be his partner for the next seventeen years. In 1975, the couple moved together to San Francisco. There, Nate found work at the accounting firm Price Waterhouse. They rented a house in the Sea Cliff neighborhood overlooking the bay near the Golden Gate Bridge. During their first summer, they reconnected with part of the Calhoun gang that had moved West.

As time went on, though, Nate grew homesick for the East Coast. In the early eighties, he came back to New York and then Connecticut. Though he and Harrison remained close, Nate moved to Hartford alone, and bought a condo where he resided for the rest of his life.

It isn't clear when Nate discovered that he had contracted HIV. In May 1989, Nate and his friends gathered in New Haven to celebrate their 25th reunion at Yale. Eleanor, who knew most of her ex-husband's Yale friends, also came to reconnect. Nate was already showing signs of illness. Still, no one mentioned it. Three short months later he died. At his funeral, there was no question of the cause.
---
Remembrance by Ken DeMario '64
Nate Marinuzzi and I came out to each other in 1970, a first for both of us, six years after we graduated from Yale, where we'd been close friends. Our years at Yale had been deeply closeted for both of us. Homosexuality was simply not mentioned, and if you were gay, you went to great lengths to distance yourself from any hint of it. I recall that we had a good friend doing a Culture and Behavior senior research project on New Haven's only gay bar. Whenever he mentioned anything about the project, I was careful to show no more interest than anyone else; years later, Nate confirmed practicing the same caution.
 
It is difficult to reconstruct our mindset then, from the vantage point of the social milieu I inhabit almost fifty years later in liberal Manhattan. We were both aware of our attraction to men but perhaps hoped that it might change or filed it away as something to be dealt with later.
 
Vivid images of Nate at Yale remain with me. He was affectionately known by his cadre of friends as "the Balloon," a reflection, I think, of our perception of him as calm, self-contained, and uncontentious. I remember seeing him across campus approaching from a distance, a handsome figure, unmistakably recognizable, with an unhurried, shambling gait, floating above the fray. Amid a group of friends who were congenitally drawn to verbal combat, he stayed outside the arena. He simply did not participate in the political disputes and sundry debates that engaged the rest of us.
 
And everyone liked him. If his aversion to intellectual combat made him easy to be with, his sense of fun and mischief made him a good companion. He would tell great stories about the denizens of the Italian-American neighborhood where he grew up in Northford — a farm area surprisingly close to New Haven — aping voices, syntax, and eccentricities. During sophomore year, Nate and I spent Friday nights drinking too much, but lowering barriers and establishing bonds of affection that endured throughout our lives.
 
On one memorable Friday night in our senior year, the night before College Weekend — the major spring celebration in those years — Nate, Len Baker, and I met two young women who were acquaintances of Nate's in a coffee shop. They were pretty exotic by our none-too-sophisticated standards, and the next thing we knew we were in New York City, where they promised to show us around the bohemian world of Greenwich Village. Arriving well after midnight, we spent the night hopping from one bar to another, including a place called the Fat Black Pussycat, where an Amazonian-sized singer held forth with mournful folk songs on a twelve-string guitar. We went on, portentously, to a dark, mostly deserted, cobweb-filled bar named Julius — the oldest gay bar in New York, unbeknownst to us — where Nate and I would later log many hours. We returned to New Haven well after dawn, feeling worldly beyond our years.
 
When I came to New York after law school in 1967, Nate was already living in the New Jersey suburbs. I was living in Manhattan, taking tentative steps toward finding the gay world, driven mostly by libido. It was then that I rediscovered Julius, the only gay bar with big picture windows opening onto a clientele of exclusively male customers.
 
Nate and I began to meet for dinner on a regular basis, enjoying our first taste of life as young professionals in the Big City. Over the following months and years, we engaged in a slow dance of incremental disclosures and nuanced ruminations, leaving inferences to be drawn. Though I recall no specific give­away, I slowly arrived at virtual certainty that we shared the same secret. When we parted after dinner, I would usually go to Julius, expecting at some point that I would run into Nate. That never happened. I later learned that Nate was going directly to the Continental Baths, where hooking up was assured and did not require the coy game-playing of the bar scene.
In retrospect it is difficult to understand how and why we waited so long to drop our pretense of straightness. Nate began to tell me about people and places that he could have known only through first­hand experience. He told me about a young chanteuse, Bette Midler, appearing on Johnny Carson and describing her weekly performances at an all-male spa, where men would gather around the pool clad only in towels for her midnight show. He did not mention that he had been there.

Later, he told me he'd heard of a church at 43rd Street and 9th Avenue that had been converted into a disco where men danced with other men. I eagerly concurred with his suggestion that it would be fun to check it out — just as curious onlookers, of course. That night, though we danced at the Sanctuary with other men and with each other, we still couldn't take the final step of acknowledging that we, like everyone else there, were gay.

In March 1970, the opportunity presented itself. The Boys in the Band, a mainstream feature film entirely about a group of gay men in New York, arrived at a first-run movie theater in midtown. Experiencing the film together was a revelation and catharsis for us. Afterwards, we poured out our own stories to each other, exhilarated that we could finally acknowledge our shared bond and excited that we could look to each other for support in exploring the new world ahead of us

Soon after, Nate called to tell me that he and Eleanor were separating. He briefly stayed with me before moving in with a man he had been dating for a while. A few years later he met Harrison Cromer, with whom he established a long-term intermittent partnership that lasted the rest of his life. It was Harrison who called to tell me that Nate was on his deathbed in October 1989.

Through the seventies and eighties, Nate and I kept in touch, though sometimes sporadically. He moved to San Francisco with Harrison, then back to New York and ultimately to Hartford, where I visited him several times. One of our last get-togethers was in Cambridge in 1986 for Yale-Harvard weekend. It was the height of the AIDS crisis. There was still no treatment available, and most of us were not getting tested if we were asymptomatic. Nate and I discussed how we had modified our habits to include only safe sex and hoped that it was not too late. We had a great weekend enjoying the brisk New England fall, some hearty meals, and relaxing into the pleasure of the company of an old and comfortable friend.

In May 1989, our gang from Calhoun gathered to celebrate our 25th Reunion. Nate was tired and napped often during the weekend, but I, perhaps in denial, did not realize that he was already very sick. The shock of Harrison's call in October, just three months later, left me devastated. I had thought that Nate and I would grow old together, savoring memories of our emergence from the repressed era of our youth to experience our lives as complete and proud adults. At the thought of those many years in his prime, taken from him so suddenly, I mourned.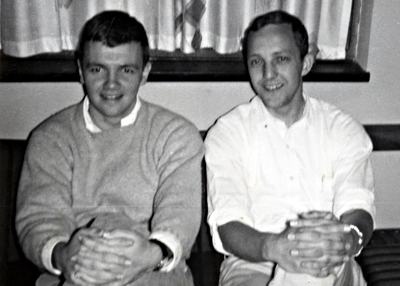 ---
Remembrance by Steve Passek '64
Nate and I met as freshmen while working bursary jobs in Commons in the fall of 1960. I liked him immediately and always looked forward to the shifts I knew we would be working together. I hoped we would become "great friends" because of our similar beginnings. We were both on full scholarships from public high schools, both from working class families in nearby small towns, and both still dating our high-school sweethearts. As it turned out, we never reached the level of great friends. While we remained very friendly for our remaining three years, I sensed that my closeness with Nate was drifting away as time went on.
 
It may have been that Nate was coming to grips with his gayness, which I am sure was no easy undertaking. After all, it was the early sixties. But it also may have been something in me that got in the way of the closeness I felt for Nate. I always wished that Nate had confided in me, or I to him, during those years.
 
A series of events took place at the end of sophomore year that exemplifies the feelings of closeness many of us felt for Nate. Our small group of ten friends living in Calhoun College had the seemingly straightforward task of aligning ourselves into groups for housing assignments the following September. We became somewhat (in)famous for our drawn-out indecision. We went through many, many permutations trying to figure out what room pairings would result in the greatest good for the greatest number. The problem lay in the fact that most of us, if not all, wanted Nate to be our roommate. We ultimately cut the knot and made our collective decision. I freely admit, however, that I felt then (and even today) a great loss in not having had Nate as a roommate.
I learned of Nate's coming out four to five years after graduation from my Yale roommate Ken Demario. Nate and I did see each other a couple of times many years after Yale when we both lived in San Francisco. By that time Nate was in a relationship with a  wonderful fellow named Harrison Cromer, also a Yale grad. We had one especially memorable "double date" (my wife and I and Nate and Harrison) one weekend at a romantic boutique hotel called The Benbow Inn in Garberville, California. I can still remember the dinner we had in the Benbow's wonderful dining room and then the walk in the moonlight afterwards. I don't think I had ever seen Nate as happy as he was that night.
---
Remembrance by Len Baker '64
Nate was my roommate for two years. We shared a bedroom — he had the lower bunk and I had the upper. 
 
Nate was a townie and a scholarship student from Wilbur Cross, just a couple of miles from Yale's campus. He was the eldest child from a traditional Italian working-class family, the first to go to college. There was a group of 8 of us, all scholarship students in the Yale Class of 1964, who roomed together or across the hall in Calhoun for three years.
 
I had no idea that Nate was gay while we were at Yale. In fact, I had no idea that anyone was gay. This was the early 1960s. The world was different then.
Nate was pretty quiet and kept his own counsel, but he knew what he wanted. He would sometimes surprise us. This was the post-Sputnik era and we, like much of our class, started out as engineering majors. During the first semester of sophomore year, we had our first electrical engineering lab. The professor, an eminent guy, was demonstrating an experimental apparatus that involved messing around with live wires carrying 220 volts. To demonstrate, he "accidentally" shorted out the wires against the master panel. This caused a huge spark, made a big bang, and left a black smudge on the panel. It was meant to scare us into safe practices. Without a word, Nate got up from his bench, went to the Dean's office, and switched to economics.

During senior year, Nate steadily dated Eleanor, who worked in the Yale library. She was a good sport and a lot of fun. I visited them in Ann Arbor as I drove west to Stanford in the fall of '64, when Nate was studying for his MBA at Michigan. I then lost touch with Nate until the late 1970s, when he showed up in San Francisco with his companion Harrison. He had come out by then but I was not in contact with him during his process of doing so.

At our 25th reunion in 1989, Nate seemed to know that he had AIDS, though he said that he refused to be tested. He wouldn't talk about it specifically, but all of us seemed to know. He looked normal but was tired all the time and napped a lot. He died a few months later.
---
Yale AIDS Memorial Project (YAMP) Offers Plan For Institutional Memory Of AIDS Crisis On College Campuses
Huffington Post, August 7, 2012
Like good ideas, the Yale AIDS Memorial Project started as a simple one to change the world. In a brainstorming session held toward that purpose at magazine N+1's office, YAMP founder Christopher Glazek contributed his idea to better memorialize the victims of a foggy, institutionalized past. Each editor spoke of a project to change one aspect of society. Starting in the Yale community, people would tell stories to bring life and awareness to victims, so a better memory could affect the future.
Project Director Richard Espinosa, a designer and Yale graduate in the class of 2010, says the journal's merits are many. Institutional memory requires ongoing transmission of shared facts and experiences, but Yale, like many institutions early-on, practiced a complicated approach to the crisis.
Glazek's history of AIDS at Yale featured student activists and professors in positions that held the front lines of progress against the disease, but his descriptions of administrative action characterized Yale as slow or appeasing to mounting pressure from these men and others.
Given its place in the political, medical, and social environment within the crisis, however, Yale Professor and historian George Chauncey noted in his introduction that he was shocked to discover how little the students in his Gay and Lesbian History class knew about AIDS. Many were born after the crisis, knew it as an African disease, and while some had family members who died of the disease, families often obscured the events. In one generation, hardly a student knew the disease that withered and killed so many gay men.
The journal and the eight men featured within are considered a great start to their education.
Brief factoids introduce each man with date of birth, hometown, and year of death before the "yearbookish" facts. Colleges are remembered — majors and on to extracurriculars too. The effect strengthens their connection to young readers as predecessors. It also introduces context for the different times and conditions each lived through as well as those taken from them — often just years after graduation.
They remind Chauncey that Yalies were never immune, and he writes a line that places Yale appropriately within the crisis' scope. Focusing on Yale's place within the crisis could certainly be considered self-serving to a community that needs little more than it has. Still, Chauncey wonders if the enormity of the crisis can only be understood chapter by chapter, institution by institution — precisely how the journal was designed to catch on.
Yale, like most universities, is made up of great and small parts named for prominent alumni. The beauty of the journal, according to Espinosa, is its mission to spread to other schools and honor victims with written memorials. After all, an alumni-funded journal published at one of the world's richest and most powerful institutions wouldn't be hard to work out. Harder is to scrub out any mention of Yale when registering the nonprofit (AMP, Inc.) and packaging your concept as necessary in others' schools.
Glazek, a recent Yale graduate ('07), told the Huffington Post's Michelangelo Signorile: "We're hoping to lay the foundation and get up the infrastructure, and we want to make our digital platform available to other schools and others institutions, churches, theater companies, whatever."
Espinosa told HuffPost College that YAMP will be proof-of-concept for other "_AMPs."
"This is all on the level of technology and infrastructure, but additionally we hope to inspire other places to think in terms of this recent and ongoing history, to not whitewash the death of a people, and to insist their deaths have no reason to be shrouded in stigma or shame," he said.