In Memoriam
Clarence H. ("Clancy") Ridley
Clancy Ridley died on May 10, 2012. Below are the following remembrances:
---
Obituary
Atlanta Journal-Constitution
May 12, 2012
Clarence ("Clancy") Haverty Ridley died on May 10, 2012. He was the second of four children born to Frank Morris Ridley and Clare Haverty Ridley.
After graduating from the Westminster Schools, he earned a B.A. in English from Yale in 1964, an M.B.A. from Harvard in 1966, and a J.D. from the University of Virginia in 1971, where he was Executive Editor of the Virginia Law Review and member of the Raven Society. Between earning his M.B.A. and J.D., Clancy served in Korea as a First Lieutenant in the United States Army, where he was decorated for outstanding service in person by General Charles H. Bonesteel III, the Commanding General of the Eighth United States Army.
Following law school, Clancy practiced corporate law at King & Spalding, where he was elected partner and served as Chairman of the firm. In 1987, he co-authored the best-selling treatise on software licensing, Computer Software Agreements: Forms and Commentary, which continues to be widely used and is supplemented every six months.
Following his retirement from King & Spalding in 2000, Clancy served as Chairman of Haverty Furniture Companies until 2010, and as Chairman Emeritus until his death. He was a member of the Rotary Club of Atlanta and served on the boards of Crawford & Company and RidgeWorth Funds.
Clancy also served as Chairman of the Board of St. Joseph's Health System; as Chairman of the Board of Visitors of Emory University; as a Founding Trustee of the Atlanta Girls School; as a Trustee of High Point University; and on the boards of the Atlanta Ballet, Leadership Atlanta, the High Museum of Art, the Carter Center, and the Atlanta Opera.
Clancy is survived by his wife of 42 years, Eleanor Horsey Ridley; his daughters, Augusta Morgan Ridley and Clare Haverty Ridley; his sons-in-law, David Milton Krinsky and Yiing Lin; his grandsons, James Clarence Krinsky and Thomas William Ridley; his siblings, Frank Morris Ridley, Haden Ridley Winborne, and Clare Ridley Ranney; his siblings-in-law, Bonnie Butler Ridley, John Wallace Winborne, and Eric Douglas Ranney; and numerous nieces, nephews, great-nieces, and great-nephews.
We will miss him enormously but will especially remember his probing intellect, brilliant wit, unequivocal ethics, heart-felt dedication to service and family, and love of excellence in all its forms.
Arrangements by SouthCare Cremation and Funeral Society in Marietta (770) 420-5557.
---
Clarence 'Clancy' Ridley, 69, lawyer and former chairman of Haverty's
Atlanta News
May 12, 2012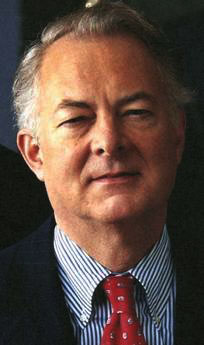 Clancy Ridley wore two notable hats as one of Atlanta's top businessmen — as chairman of Haverty's furniture stores and as a senior partner with the King & Spalding law firm.
L. Phillip Humann of Atlanta, who followed Mr. Ridley as chairman of Haverty's, said his predecessor deserves a share of the credit for the company's traversing the treacherous currents that inundated other furniture merchandisers during the past decade.
"Remember that Clancy was on our board of directors for 20 years before he became chairman for a decade, so he came to that high position really knowing our business," Mr. Humann said. "He possessed unusual intelligence and complete integrity."
Haverty's CEO Clarence Smith of Atlanta said Mr. Ridley "helped us step up our game" during the turbulent 2000s. "He encouraged us to invest in our business, open outlets in central Florida and Washington, D.C., and update our distribution facilities," he said.
Clancy Ridley was the great-grandson of J.J. Haverty, who with his brother Michael opened the first Haverty's store in downtown Atlanta in 1885. The company has retained a strong family influence ever since.
Before accepting the Haverty's chairmanship in 2000, Mr. Ridley was with King & Spalding for nearly 30 years. He was esteemed for his vision and drive during the firm's transition from regional to national prominence.
Mason Stephenson of Atlanta, a King & Spalding partner, said Mr. Ridley was a highly collaborative leader in his capacity as chairman of the firm's policy committee (essentially its board of directors) and as head of its corporate team, which oversees mergers, acquisitions and capital-raising activities.
"Clancy was a trend spotter," said Michael Egan III of Atlanta, another King & Spalding partner. "He was ahead of almost everyone in the legal profession when it came to recognizing the need to adapt to changes in technology."
In 1987 Mr. Ridley co-authored with Peter Quittmeyer and John Matuszeski a treatise on software licensing. Entitled "Computer Software Agreements: Forms and Commentary," it still is a must-read source for practitioners of high-tech law, Mr. Egan said.
Clarence "Clancy" Haverty Ridley, 69, died Thursday at St. Joseph's Hospital of complications from a staph infection. A celebration of his life is scheduled at 10:30 a.m. Monday at the Cathedral of Christ the King. His ashes will be placed in the Cathedral of St. Philip columbarium after the evensong service there Sunday. SouthCare Cremation and Funeral Society, Marietta, is in charge of arrangements.
Mr. Ridley had strong academic credentials. A Westminster Schools graduate, he earned a bachelor's in English from Yale, a master's in business administration at Harvard, and a law degree from the University of Virginia.
A tireless volunteer in his community, he chaired the board of St. Joseph's Health System and the Board of Visitors of Emory University. He also was a founding trustee of the Atlanta Girls School. In addition, he served on the boards of the Atlanta Ballet, Leadership Atlanta, the High Museum of Art, the Carter Center, and the Atlanta Opera.
His wife of 42 years, Eleanor Ridley, said he enjoyed biking with family members, whether they were in Atlanta or abroad, including biking through India, China, and several countries in Europe. He also was a runner, competing in more than 20 Peachtree Road Races and several triathlons.
She said he signed his name as Clarence, but otherwise was known to all as Clancy.
Survivors also include two daughters, Augusta Ridley of Rockville, Md., and Clare Ridley of St. Louis; two sisters, Haden Winborne and Clare Ranney, both of Atlanta; a brother, Frank Ridley of Amelia Island, Fla.; and two grandsons.
---
Eulogy by Steve Clay '64
Clarence Haverty Ridley was my close and wonderful friend for 67 years. We were both born in Atlanta and grew up in Atlanta, and we became friends the way most small children do: because our mothers said so. If you knew Clare, his mother, and Sarah, my mother, you know that their commandments were binding law. Fortunately, the friendship suited both of us.
Clancy was three. I was two and a half. We went to the same kindergarten, "Miss Jenn's," in a little bungalow in Ansley Park. There was a playground in the back with an old dinged-up car on blocks. At recess, the boys made bee lines to the back to wrestle for control of the steering wheel.
There were 10 or 12 of them fighting for positions in the front seat. At that age and stage in our lives, Clancy and I were spindly boys with matchstick legs and noodle arms, ill-suited to contest the meatier, more aggressive boys who by then were trading shoves and a few punches, as boys will do. Clancy and I stood to our respective sides, he near the driver side, I near the passenger, and we were jealous.
Suddenly from the car came a howl, and then another. One boy had a bloody nose, another was gasping for breath from a kick in the stomach. The girls were pointing at the car and calling for Miss Jenn and there she was, promptly restoring order and marching all the boys in the car back to the bungalow to stand in different corners for the remainder of recess.
We saw our opportunity at the same moment. Clancy slipped in from his side, I from mine, and I slid across the seat where I could reach the right side of the steering wheel. He took the left. We drove the car together happily for the rest of recess.
After kindergarten, Clancy went to school at Christ the King. I started E. Rivers, which burned to the ground my first day. Different churches took us in, including Christ the King. Every day after school, we went to Bob Glenn's backyard where a young Georgia Tech student named Buddy Fowlkes was paid by our parents to teach us sports and look after us until dinner time. There were about 25 of us and I already have seen several in the Church today. We went to Buddy's Playgroup until the 8th grade and many of us, including Clancy and myself, went to Buddy's Summer Day Camp as well.
Attitudes towards sports among Playgroup boys varied. Some loved all of it, football, basketball, baseball, boxing, you name it. Some of the best athletes of our generation were there, including Bonneau Ansley, Speed Howell, Charlie Hill, Ducky Brown, Haygood Clarke, Billy Roberts and others, some of whom would end up all-state and all-stars; and others (including Clancy and me at that stage) sat on the bench and told jokes and ridiculous stories to each other, paying minimal attention to whatever was happening on the field.
By the time we got to Westminster in 1955, we realized that girls seemed to take an interest in athletes. We liked girls. We became athletes.
Clancy eventually won state championships in two sports, wrestling and track. By that time, I was in boarding school in New Hampshire, but we ran the same race -- the 880 or half-mile -- and we traded times throughout our junior and senior years. The only accepted proof of your time was an article from a newspaper. We sent articles back and forth marking our efforts to break two minutes.
My last race in high school was about this time of the year, mid-May, on a Friday afternoon. On Thursday, I got a news article from Clancy that he had run a 2-minute half-mile and had won the Georgia state championship. His time was 2 seconds better than my best. I had one chance left.
My race involved six runners, three from each team, plus, in my head, Clancy. I ran the race in exactly 2 minutes, the same time as his, but the other two runners on my team were faster. Clancy was the Georgia state champion. I was third on my team. I told him it wasn't fair and I was going to put it on my resume that I was the 1960 State of Georgia co-champion in the 880 with the same time as his. He said if I had been in the race and he had needed to run a second faster to win, he would have. I said the same thing.
The summer before we started Yale, we both had jobs in Atlanta. Clancy was doing repos for Haverty's. I was working on a construction job. One night, we borrowed his brother Bud's olive green 1951 Studebaker to go out on the town. I was 17 but didn't have a driver's license and really didn't know how to drive. Clancy had a license and access to a car, but he didn't drive so well either.
That night, we went to a new coffee house on 14th Street, acoustic guitar and beat poetry. We got bored pretty quickly and decided to leave. As we got to the car, these four pretty big, pretty rough-looking characters started talking to us on the sidewalk. As we got in the car, Clancy said something I didn't quite hear, something about louts and loitering, and he honked the horn at them and pulled away from the curb as quickly as was possible, considering the car. He made the four guys jump. He also made them angry.
They piled in their beat-up station wagon and started chasing us north on Peachtree. There was no traffic in 1960 at 10:30 p.m. Clancy was pushing the Studebaker as hard as he could and searching for the overdrive button.
Meanwhile, the louts were closing in, maybe 100 feet away. Clancy finally found and pushed the overdrive and the Studebaker surged to 60 miles per hour, shuddering and gasping but still ahead of our pursuit, now about 50 feet back.
At that point, the guy in the passenger seat pulled out what looked to me to be a handgun and leaned out his window, pointing his weapon in our general direction.
"Clancy," I said quietly, "they have a gun."
We were approaching the Lindbergh intersection and the car was at 65 mph. Clancy had been lifting weights for two years and he had a lot of faith in his ability to outmuscle anything. Without a word of warning, he applied all his strength to force the car off Peachtree and onto Lindbergh, about a 90 degree turn. The Studebaker tipped left, we skidded on the left wheels, then settled back to the right as we flew on all four wheels away from Peachtree and our gaping pursuers, who had no chance of making the turn. We immediately turned into Garden Hills and crept home the back way.
I learned two lessons that night: (1) Clancy, particularly in a car, had more confidence than common sense; and (2) I needed to learn how to drive.
In the fall of 1960, Clancy and I both entered Yale and decided to room together. We were in Bingham Hall and had a great suite with two bedrooms and a common room with a fireplace we used as an indoor lacrosse goal.
One of Clancy's characteristics, which by then I fully appreciated, was his unusual sense of humor. As most of you know, he had a rather formal manner that made him in certain situations seem very serious, which was appropriate and quite necessary to his extraordinary success as a lawyer and as a businessman. Clancy was brilliant and sometimes wanted to be sure you knew it. He would drop his voice, speak very softly, and not smile.
But he also sometimes behaved seriously when he was totally not. He wanted to see if you knew the difference. If you didn't, he might just let it go. If you did get it, if you knew he was putting you on, and especially if you responded by doing the same thing back to him, you added another dimension to your friendship.
Another aspect of Clancy's humor was that no one thought he was more amusing than he did. I'll give you an example from that freshman year at Yale.
It was late on a Sunday afternoon. We each were in our respective bedrooms, ostensibly studying. I heard Clancy begin to laugh, quietly at first, but then with increasing volume. I thought someone must be with him. I went through the common room and knocked on Clancy's closed door. He told me to come in. He was at his desk, laughing so hard the tears were running down his cheeks.
"What in the world is so funny?" I asked.
"This letter" he was barely able to say, "is the funniest thing I ever read."
"Who wrote it?" I asked.
"I did," he said.
It was not the last time laughing brought us to tears. In later years, after we returned to Atlanta and were both practicing law, he at King and Spalding, I at Kilpatrick Cody, we ran together two or three times a week. We ran a fast pace, but not so fast we couldn't talk. Neither tried to get ahead of the other. We ran side by side.
For lots of reasons, we never talked about law or our law firms. We told jokes and stories that made us laugh, some of them true, or we quizzed each other on lyrics from the rhythm and blues singers we listened to on the kitchen radios in the houses where we grew up, songs from Ivory Joe Turner and Piano Red, from Laverne Baker and Ruth Brown and Clyde McPhatter, later from Jerry Lee Lewis and Chuck Berry. We would start laughing at something, say "The Curly-headed Chicken Fell in Love With the Chicken Hawk," and to finish a story or a song we would have to stop running to catch our breath, and on one occasion I remember both of us sitting on the sidewalk so out of breath a policeman in Virginia-Highland asked us if we had been hurt or needed medical attention. Clancy and I did a lot of the same things, as you can see.
We both went to Virginia to law school.
We both came back to Atlanta, joined big firms and became partners.
We both became chairs of our firms.
Twice, I represented him.
More than twice, I sought his advice.
We ran or had lunch or talked on the phone every week from 1972 until his illness. We were intensely competitive people, but we managed to avoid competing directly with each other, which protected our friendship from Miss Jenn's until the end.
Clancy and I sometimes fell in love with the same girl, but never at the same time. He met my wife, Henny, in 1963 after she and I had started dating. When we were engaged in June of 1964, I called him and asked him to be in the wedding. He said yes, and then he added "Henny is exactly the kind of girl I want to marry. She is so beautiful, so elegant, so refined." I said "That's true, but you're not getting my girl friend."
Well, of course, that wasn't his intention, but 3 or 4 years later, he called me to ask if I remembered our conversation, and he said that he had found such a girl, and, of course, that girl was Eleanor.
Clancy and Eleanor have had a wonderful marriage for more than 40 years, two wonderful and accomplished girls, a doctor and a lawyer, two brilliant sons-in-law, a doctor and a lawyer, two adorable grandchildren, many family vacations at Kiawah and all over the world.
Clancy was a wonderful person, generous in ways he didn't want the world to know, thoughtful, but not always easy. In the end, like most of us, he needed support. No one could have provided more love, loyalty, and support than Eleanor. My admiration for her has no limits. On our great friend's behalf, and on behalf of all who loved him, we thank Eleanor from the bottom of our hearts.
---
Remembrance by Nick von Baillou '64
Email to Class Secretary Tony Lavely on May 18, 2012
I enclose the sad news from Atlanta where Will Elting, Charles Barker, Joe Wishcamper, Steve Clay and I attended the funeral of our beloved friend and roommate. You will recall that Clancy earned an honors degree in Eng Lit, was a member of DKE, Ring & Candle, and lived in Pierson. My sister who knew him from those days recalled him as "the most elegant and seductive southern aristocrat she ever met".
HIs ashes were interred at St. Philips Cathedral in the intimate garden beside the church in the fading light of a rainy spring day, and they rest with some of Atlanta's most distinguished souls. I am not sure what really caused my cheeks to be so wet ... perhaps it was the rain or the many memories that flooded my thoughts as I bid my final goodbye.

Charles Barker, Nick von Baillou, Joe Wishcamper
---
Remembrance by Bill Moeller '64
After many years of discussion, my wife Kitty and I finally took a Yale Educational Travel trip in September 2011. We had a wonderful two-week cruise on a small ship in the Mediterranean and had the pleasure of meeting and getting acquainted with Clancy and Eleanor Ridley.
What a delightful couple and yet another Yale '64 classmate whom I had never met! The picture of Clancy and Eleanor includes the captain of the Corinthian II. Clancy delighted in taking a tour of the bridge.
I was saddened to read about his premature passing a few months later and thought it might be appropriate to include this photograph in the memoriam section of our class website.