In Memoriam
Jack Rodnick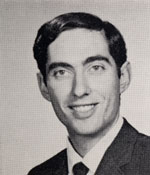 Jack Rodnick
1964 graduation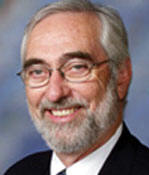 Jack Rodnick
2008
---
Jack Rodnick, Longtime UCSF Educator and Clinician
San Francisco Chronicle

February 18, 2008
Jonathan "Jack" Rodnick, MD, chair of the UCSF Department of Family and Community Medicine from 1989-2003, passed away unexpectedly at the age of 65 while on vacation in Haena, Kauai on January 26, 2008.
Born in Amesbury, MA, on July 4, 1942, he was an Eagle Scout, graduated from Andover in 1960 and from Yale University in 1964 with a BS in biophysics. He attended the UCLA School of Medicine, where he graduated magna cum laude and was elected to Alpha Omega Alpha in his junior year. He completed his internship at San Francisco General Hospital in 1969, and served the US Public Health Service for two years as the doctor for the Pribilof Islands, a remote island chain off the coast of Alaska in the middle of the Bering Sea. In 1973, he completed his family practice residency at the University of Vermont, the institution that pioneered family practice medicine as a specialty.
Jack's distinguished medical career is detailed below. Jack spent his leisure time outdoors. He was a passionate backpacker, runner, cross-country skier, sailor, and cyclist. He mixed outdoor interests with a passion for music and the arts and enjoyed playing the clarinet. He encouraged others by his example to be their best, and to learn, and live life to the fullest.
Jack leaves behind his wife, Judith Harding, sons, Matthew (wife, Taryl Lum Rodnick) and Benjamin Rodnick; sister, Nicki Bell, and many extended family members who loved him dearly. His extensive network of family, friends, colleagues and patients will long mourn his passing and celebrate his zest for life. Jack was a true adventurer and traveled extensively for business and pleasure. This past summer, Jack climbed Matterhorn Mountain in the High Sierra for the second time with old friends. A month before his passing he traveled to Albania to participate in the creation of Family Practice training under the auspices of the US Agency for International Development and the American Association of Family Practice. Those who knew him wish him Aloha on his ultimate adventure.
A celebration of Jack Rodnick's life will be held on Sunday, March 2, 2pm in Cole Hall at UCSF on Parnassus Ave., SF, followed by a reception at the Faculty-Alumni House, 745 Parnassus Ave. In lieu of flowers, donations may be made to the Jack Rodnick Memorial Fund in Family Medicine, based in the UCSF Dept. of Family and Community Medicine. Checks should be written to the UC Regents and send c/o Judi Mozesson at the Dept. of Family & Community Medicine, UCSF, MU3E, Box 0900, SF, CA 94143.
---
UCSF Today
January 29, 2008
Longtime UCSF educator and clinician Jonathan "Jack" Rodnick, MD, former chair of the UCSF Department of Family and Community Medicine, died unexpectedly on Jan. 26 while vacationing in Hawaii.

A memorial and celebration of the life and contributions of Rodnick will be held on Sunday, March 2, at 2 p.m., in Cole Hall, 513 Parnassus. The memorial will be followed by a reception at the Faculty-Alumni House, 745 Parnassus Ave.

Rodnick achieved a career of distinction in family medicine. His national leadership in family medicine has been widely recognized, and his dedication to the success of the UCSF Department of Family and Community Medicine has earned him the admiration of the family medicine community at UCSF.

Under Rodnick's direction, the department grew to become one of the nation's premier family medicine departments. During his 14-year tenure, Rodnick led the department through such significant achievements as the development of the student-run homeless clinic, the national HIV "Warmline," the Center on Social Disparities in Health and the Family and Community Medicine Collaborative Research Network, moving the department into the top ten in national rankings of departments of family medicine.

Rodnick was recognized by faculty as a fair and considerate leader who was fully devoted to the overall success of the department. He demonstrated a commendable level of dedication to University service through his wholehearted commitment to his duties as department chair and participation in many key University committees.

Rodnick was a role model as a clinician-scholar. As one of the early academicians in the new specialty of family practice, with limited access to extramural grants and minimal research infrastructure, Rodnick demonstrated great ingenuity and resourcefulness in building a body of scholarly work in clinical research. His studies and publications on electronic medical records and computerized reminders for preventive services have been highly influential in primary care practice.

Rodnick's leadership as an academic family physician was recognized by his election as president of the Society of Teachers of Family Medicine (the academic society for family medicine) in 1987, and more recently by his selection to the National Advisory Committee for the prestigious Robert Wood Johnson Clinical Scholars Program. He achieved international influence through his work in building linkages between programs in medical education in the United States and China, England and other nations.

Rodnick played an active role as a clinician and educator in the department. An educator for more than 30 years, he taught students and residents, both by delivering didactic presentations on preventive health care and related subjects and by working as a teaching attending physician at the UCSF Family Medical Center at Lakeshore and the San Francisco General Hospital Family Health Center.

The primary focus of Rodnick's research was on the broad area of understanding and encouraging the global development of family medicine/primary care education and clinical programs, particularly in health systems in African and Asian countries. He was invited to Japan in the 1980s to help that country start a family medicine postgraduate training program and to China in the early 1990s to help upgrade that country's poorly trained primary care doctors. The visits to Japan and China led to his involvement in creating a visiting faculty program and to develop general guidelines for the development of the family medicine field for these countries.

Rodnick's other research area focused on ways to increase clinical prevention in primary care through improvements in public health systems. He was an advocate for public health approaches to clinical prevention of infectious diseases.

Rodnick graduated from Yale University with a BS degree in biophysics in 1964. He attended UCLA School of Medicine, where he graduated magna cum laude and was elected to Alpha Omega Alpha in his junior year. He completed his internship at San Francisco General Hospital in 1969 and his family practice residency training at University of Vermont in 1973.

Rodnick initially joined UCSF as a clinical instructor without salary and assistant director of the UCSF-affiliated Family Practice Residency Program at Community Hospital in Santa Rosa in 1973. Rodnick was promoted to assistant clinical professor in 1976 and to associate clinical professor in 1982. He was appointed to professor of clinical family and community medicine (Step 1) in 1988 and to professor (Step 2) in 1991.

Rodnick was a member of the following professional organizations: American Academy of Family Physicians, Society of Teachers of Family Medicine, American Public Health Association and Physicians for a National Health Program. He was a manuscript reviewer for many of the leading medical journals, including Journal of Family Practice, Family Medicine, American Journal of Preventive Medicine, and the Journal of the American Medical Association. He is listed in the Best Doctors in America.
---
Jack Rodnick was remembered at a Memorial Service in Battell Chapel on June 5, 2009 during our 45th reunion. Nick Danforth '64 wrote and delivered the following remembrance.
Jack, we hardly knew ye!
Dr. Jack Rodnick died suddenly and tragically of a heart attack in January '08 in Hawaii at what seemed the peak of a very successful international career in practicing and teaching family medicine.

Jack was at Andover with some of us; at Yale, he said in his 40th reunion essay, he "learned to explore." Afterwards, he simultaneously studied medicine and, like many of us, purposefully avoided fighting in the war we opposed in Vietnam — even though he was born a real, live nephew of our Uncle Sam on the 4th of July. Instead he fought disease, the sole doctor for 1000 Aleuts on desolate islands in the Bering Sea.

Jack became the beloved father of two and husband of the woman he called "my favorite playmate," Judge Judith Harding. Judy, classmates remember, was on our reunion panel discussion in 2004 on "Sex, Love, Marriage, and Divorce"; she talked about her pioneering work in the San Francisco Family Court system to promote "collaborative law" — to settle divorces positively, with minimal rancor and cost.

Jack's death at 65 was, of course, much too soon: he was too healthy, jogging daily with Judy — who used to say "Jack lived every day as if it had 48 hours." He was much too fulfilled and productive in his international family practice. Most of all, Jack was too happy being with his fine family, especially his wonderful wife, to die so soon.

OK, there's a silver lining — for Jack, as we all hope there will be for each of us. When it's our turn to say goodbye forever, you could do worse than be a brilliant and respected family practitioner, chairing for 14 years the Department of Family and Community Medicine at the University of California, San Francisco, helping countless families cope with suffering, and teaching others the much neglected art of family medicine. You would want to be at what you called a very happy time in your life: you would have successfully chaired a challenging meeting of the American Academy of Family Physicians. You would be planning to spend next month in Albania overseeing the training of an urgently needed cadre of family physicians to serve that needy nation.

Most important, if you had to die, you would want to be out for a morning jog with your beloved woman on the top of a mountain in Kauai in Hawaii, looking out to sea — a place you both call the most beautiful in the whole world. Feeling short of breath, you might pause for a minute, looking out over the sea toward the rising sun. You could do worse than pass out, and pass away, there on that mountain, with your "favorite playmate" at your side, in glorious morning sunlight.

Jack's friend, Bill Coffin, whom Jack and many of us were lucky to have known at both Andover and Yale, liked to explain his conviction (sometimes in this same pulpit here at Battell Chapel) that the only way to have a good death was to live a good, full, and caring life.

Bravo, Jack, you did both! Goodbye, young old friend!